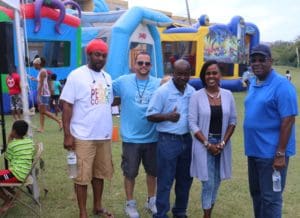 On Saturday, March 11, the Virgin Islands Police Department (VIPD) hosted a fun day for families and children at Harbor View Housing Community. This ongoing initiative was a collaboration of the Virgin Islands National Guard (VING) Positive Guidance, The Michaels Organization (Harbor View Housing Community) the Virgin Islands Housing Authority, DHW Business Services and Real Talk Community Group.
During the full day event, the VIPD officers showcased K-9 demonstrations and bike safety precautions. Officers also gave positive motivational talks on self-esteem, leadership qualities and bullying. VING members held workshops on the dangers of drugs and alcohol.
Police Commissioner Delroy Richards and Chief Winsbut McFarlande greeted the children and their families. The Harbor View Housing Community children were awarded with medals and VIPD backpacks and school supplies as well as educational games for full participation in activities from spoon racing, obstacle course competition, musical chairs, pick-up basketball and volleyball games.
Police officers volunteered their time and provided lunch straight from the grill: hot dogs, hamburgers, chicken wings, veggie burgers, snacks and soft drinks.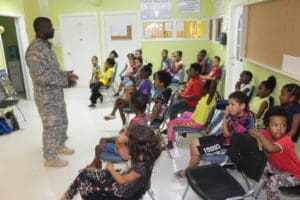 Commissioner Richards said, "Police Department's Community Outreach is a great way to meet the residents in our community and have the ability to impact a change and to strengthen ties with the police. Tension is starting to decrease between the community and the police because they see us a lot more in non-critical situations. And that's how you start building trust in the community."
Chief MacFarlane said, "We try to make ourselves visible and available — it doesn't have to be a police matter."
This initiative started in November 2016 when VIPD went into Profit Hills (Harvey Project) and did a clean-up by removing bushes and creating visibility in dark areas. They hosted a residents' community meeting followed by a fun day on Dec. 3. VIPD officers will be implementing this process when they visit other housing communities throughout the territory.