A 16-year-old male, Juan Aponte, died Saturday evening in a shooting at the Cockpit in Estate Glynn, the V.I. Police Department reported.
It was the third homicide on St. Croix since the beginning of the year, the tenth in the territory.
According to the police report, at 8:23 p.m. 911 dispatchers received a call about a shooting at the Cockpit. At the scene, officers found four victims with gunshot wounds.
Aponte was determined to be dead on the scene. Another male was gravely injured with a gunshot wound to the head and was airlifted off island for treatment. A woman sustained a gunshot wound to the leg, and an adult male had been grazed in the face by a bullet.
The VIPD report did not give the names of the non-fatal victims.
While authorities had not put their finger on the motive for the shooting or determined who the target was, police have detained a suspect on illegal firearms and unlawful entry charges.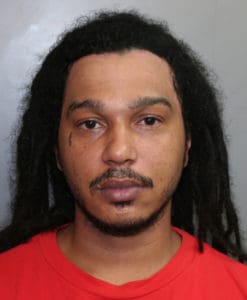 At about 8:55p.m., 36-year-old Edgardo Ortiz Jr., also known as "Sopow," was in the vicinity of the Estate Glynn club and fled from detectives who were trailing him. Ortiz was said to have quickly left the cockpit in a vehicle, with police in pursuit. He was intercepted in the Barren Spot area after abandoning his vehicle and running into the home of someone he knew, without permission. CIB and Special Ops team discovered a handgun in his vehicle.
Ortiz was arrested and charged with possession of a firearm, possession of ammunition, unlawful entry and failure to register a firearm. Bail for Ortiz was set at $25,000. He was unable to post bail and remanded to the Golden Grove Detention Center pending his advice rights hearing.
Police did not suggest in Sunday's news report that the shooting and the arrest were connected.
A team from the Criminal Investigation Bureau "is working on all leads for this case and, asking the community to say something if you see something," the VIPD said.
Police urged anyone with information to call the CIP at 340-778-2211, or the anonymous tip service, Crime Stoppers USVI, at 1-800-222-8477.
Editor's note: This story was edited after posting to add information received after the initial police report.