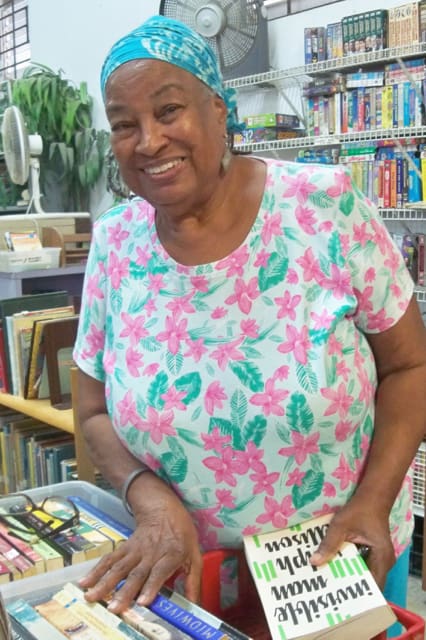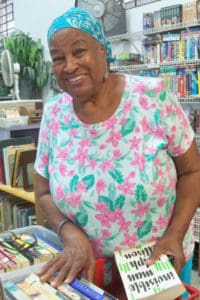 Habiba Evans, a volunteer at the Animal Welfare Center Flea Market, loves to help people find what they are looking for in a good, used book. One is sure to find something in the thousands of books donated and sold to help stray dogs and cats on St. Croix, and Evans is just the person to help you find it.
Evans enjoys sharing her knowledge of authors and subjects with everyone who stops to browse. She can be found at the flea market three days a week sitting at her desk sorting through piles of books, organizing the books by subject and then shelving them in numbered sections she has set up.
" I love to chat with people and hear what they have to share with me about topics, authors, and life experiences." Evans said. She keeps learning new things through sharing, and has become friends with a lot of people who love books as much as she does.
"As I get older I understand it's important to be with other people to share our life experiences," Evans said. "We can do that through books."
Evans, will be 80 in September and doesn't look a day over 70. She said she has been giving back to her community through AWC for almost four decades. She was encouraged to volunteer at AWC by one of her best friends, Mary Edwards, who was the director of AWC in the 1980s. At one time she was fostering 11 dogs, she said. She added the center operated like a family and it gave her joy and pleasure to be able to help out, give back and get involved.
The book section of the small flea market back in the 1980s was a disaster Evans said.
"What we have here in this larger space has evolved over time," Evans said.
She said she is always thinking about and turning over in her mind what else she can do to improve things and help people.
Evans said she is a true Virgo and one of her traits is her preference for organization. She keeps books organized and shelved with the help of seven volunteers which includes a family of five who she is grateful for. She even has a volunteer who puts donated puzzles together to see if there are missing pieces.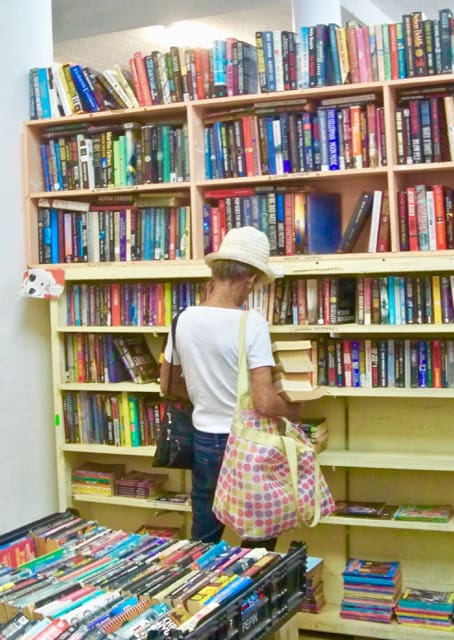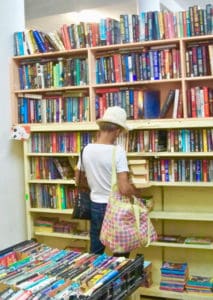 The only challenge for her is finding space for all the books and puzzles. She would like to have some kind of drop box like libraries have for people to drop off books. She recommends that people leave them indoors and not outside where the rain could damage them. And she is working on a legend so people can easily find what they are looking for.
The money made from the books – and every thing else at the Flea Market – all goes to the center for animal care, she said.
"I'm very happy to see the services the center provides and the care they give," Evans said. "And to see they operate as well as they do with what they have."
Evans is also pleased with and loves to see what churches in the community do to help people.
"They put their money where their mouth is," Evans said. A Lutheran, Evans said she recognizes the importance of sharing and giving to other people that the church does. She said Lutheran Social Services and Queen Louise Home are good examples.
Evans earned her undergraduate degree in English and literature from the University of Illinois at Navy Pier Chicago, and her master's degree in literature from Howard University. After college she taught at Howard University for a short time.
In 1978 she came to the U.S. Virgin Islands when the Department of Education was on a drive to recruit stateside teachers. She said she was thrilled to land a job on St. Croix and not St. Thomas. She taught English and literature in middle school until her retirement in 2001.
Since retiring she has continued educating herself, learning new things through the Great Courses lecture series on the Internet. And staying busy gardening, cooking and quilting.
"I love colors and different patterns of fabric and quilt patterns," Evans said. "Stories of love can be told through quilting and I enjoy making them to just to give them away." She said she has gotten into cooking Moroccan dishes and her specialty is a cinnamon and garlic roast beef dish.
Evans said she should have been a dancer or an artist because she is a creative person, but her parents encouraged her to be a teacher instead so she could make a decent living.
St. Croix readers and animal lovers are probably pretty happy her life took the course it did.