Michael Selwyn Herbert Sr., also known as "Massive," died on March 1.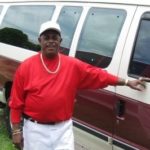 He is survived by his spouse, Sheila Browne-Herbert; mother, Nina Herbert-Rene; sisters: Arlene A. Stewart, Glenys B. Herbert and Gail Herbert-Charles; brother, Kurt E. Rene; daughters: Tiffani Herbert, Nicole Herbert-Beckles, Tracy Connor-Corke and Nicole Gill; son, Michael Herbert Jr. (DJ Chubby); son-in-law, Dale Corke; and brothers-in-law: Desmond M Stewart Sr. and Randolph Charles.
He is also survived by granddaughters: Dellitta, D'Nyirah, D'Neyjah, Tiana, De-Shay, Tamiyah, D'Niella and Sinai; nieces: Krystal and Kirsten Stewart, Cadilla George, Stacey-Ann Charles and Azariah Ferris; nephews: Wade Charles, Desmond Stewart Jr., Kristion and Kaiden Ferris; special friends: Anesta James, Keith and Ingrid Francis, Bernice Bartlette, Brenda Thibou and Adrian Ferris; as well as other relatives and friends too numerous to mention.
The viewing will take place at 9 a.m. and the funeral service at 10 a.m. on Tuesday, March 14, at St. Peter's Episcopal, Sion Farm, St. Croix.