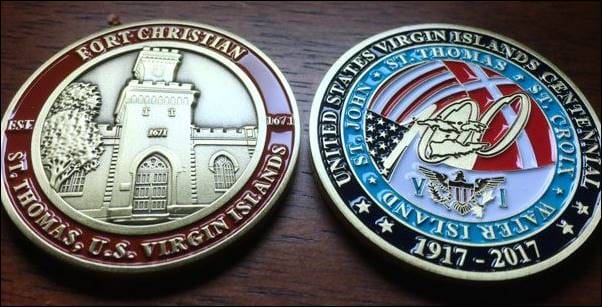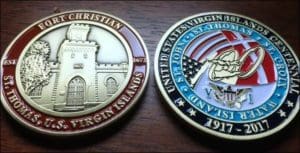 The V.I. Centennial Commission has chosen a brass commemorative coin minted by the 340 Group as the official V.I. Transfer Centennial Coin, something Virgin Islanders and collectors can purchase and have as a keepsake.
The coin, a minted 39 mm antique brass commemorative item, celebrates and honors the 100th anniversary of the transfer of the islands from Denmark to the United States of America. The coin features a dark blue outer ring that reads United States Virgin Islands Centennial 1917 – 2017; a light blue inner ring that reads St. John, St. Thomas, St. Croix, Water Island; and an inner core which features the American, Danish and U.S. Virgin Islands flags and an outline of the three islands with 100 as the background.
The commission selected the coin for presentation to U.S. District Court Judge Wilma Lewis during the recent visit of Supreme Court Justice Sonia Sotomayer," 340 Group managing partner Austin Callwood said in a statement.
The official Virgin Islands Transfer Centennial Coin is available for purchase on the 340 Group website www.vigiftshop.com for $14.95.
The 340 Group are all Virgin Islanders with extensive experience managing private, government and civic organizations. Since 2000, members of the group have successfully mentored and assisted Virgin Island students applying to colleges and universities, and through their efforts more than $4.2 million in scholarships were awarded to local students further their personal and professional development. The group endeavors to maintain a positive image of the Virgin Islands in the Washington, D.C., area.