The Ulla F. Muller Elementary School's cafeteria was buzzing Monday morning with the rhythmic sounds of upbeat jazz encouraging students to clap and sing along throughout their lively music lesson.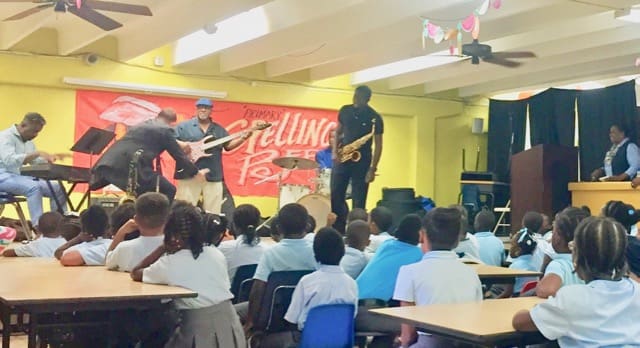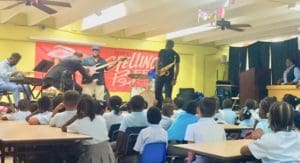 Known as "Jazz For Young People," the concert is part of a music education program for kindergartens through third-graders that is being implemented in stages throughout the territory.
Nicole Koerts-Parson, executive director of the United Jazz Foundation, said her organization is working with the V.I. Department of Education, University of Oregon and Jazz at Lincoln Center to develop music curriculum for local schools. The partnership and concert series is now in its third year.
"This is the conceptual part of the program and our goal is to start classroom pilots in the fall on all three islands to teach jazz improvisation and classical training," Koerts-Parson explained.
Founded by Koerts-Parson and her husband, veteran jazz drummer Dion Parson, the United Jazz Foundation seeks to educate and mentor aspiring young musicians in the Virgin Islands.
Learning music young is key to the development of critical thinking, Koerts-Parson said, adding that it also teaches them to be agents in their education.
During the program, students learned about swinging beats and call-and-response from musician Timothy Sullivan, who works in education programming for Jazz at Lincoln Center. Sullivan sang and played the flute and saxophone, teaching the students about the instruments' parts throughout the lesson.
When the new music curriculum is introduced, Sullivan said classrooms will be more energetic and more engaging. Creativity and imagination are at the center point of arts and music, he said.
"What if music education could be like this all of the time, danceable and fun with ways for students to participate more?" Sullivan asked. He said the idea is for kids to enjoy the lessons, but for the content to be informative enough that a serious jazz musician would approve.
Attentive and smiling ear to ear, the students swayed to the music and sang along to famous jazz songs, including Duke Ellington's "It Don't Mean A Thing (If It Ain't Got That Swing)."
Parson played drums to accompany Sullivan's energetic music lesson, alongside local pianist Gylchrist Sprauve and bassist Clifton Finch.
Blending history, culture and music, the new curriculum will be infused with local tunes as well. The students learned about and sang a St. Thomas-originated song "Fire Down There," which was made famous by jazz tenor saxophonist Sonny Rollins.
To inspire the elementary students and show them what's possible through music, saxophonist Sherwin Williams and drummer Joshua Farrell also took to the stage.
Both young men have studied with Parson for several years and are pursuing professional music careers. Williams is studying music education at the University of the Virgin Islands, and Farrell is a student at Antilles school and intends to study music and business in college.
For young musicians like Williams and Farrell, studying with Parson has opened up a number of doors and given them an outlet to express themselves.
"We wouldn't be on the level we are now without studying with Parson – that would have taken us 10 or more years than where we are now," Farrell said. "I learned about discipline too, since I practice for about an hour every day."
Echoing Farrell, Williams said that being diligent about practicing has translated to other parts of his life as well.
"Being on a schedule makes accomplishing things easier in life, since you learn about the value and importance of discipline and being consistent," Williams said.
Learning to communicate through music has also helped the young men express themselves. Williams said that because things that happen offstage can affect your playing ability, he's learned how to effectively communicate and deal with his feelings in troubling times.
Farrell and Williams now have students of their own and are committed to sharing their music education so other young Virgin Islanders can have the same opportunities they do.
"That's what we're teaching these students, to show the next generation about music, that they have a responsibility to do so," Koerts-Parson said of having Farrell and Williams involved in the lesson.
Sitting beside his drum kit, Parson said he's always looked forward to the day his students could become teachers.
"We have a pool here, we have the product – we just need to nurture it," Parson said.