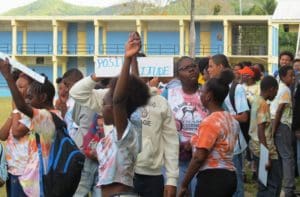 Elena L. Christian Junior High School (ELCJHS) rolled out its School Year 2016-17 Positive Behavioral Interventions and Supports (PBIS) initiative with a school-wide rally after an Honor Roll Assembly on Feb. 23. The assembly, held in the school cafetorium, was a celebration of the achievement of students who made it onto the Principal's Honor Roll as well as those on the Honor Roll for the second quarter of the school year.
Three eighth graders and four seventh graders made the principal's list. A combined 82 students were awarded certificates for appearing on the Honor Roll.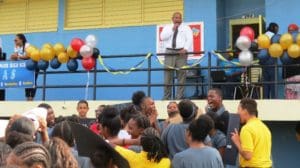 The PBIS program was held on the school's field where four teams, A to D, taught their peers the school's positive behavior expectations through rap, role playing, chants and songs. Hosted by Team B, each team selected an expectation of behavior for an area of the school, such as the cafeteria, classroom, bathroom or the school bus station.
Principal Carlos McGregor and Khema Loving, a school counselor, moderated the PBIS initiative. He said the school's PBIS team along with the administration and staff have been working diligently to implement the program this year. "It was a great success. The PBIS program is an adaptable framework to address behavioral challenges and improve social skills, school climate and school culture," McGregor said. "Students at Elena L. Christian Junior High exhibit Simba Pride through Positive Attitude, Respect, Integrity, Determination and Excellence."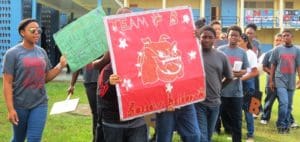 Following the PBIS rollout, the teams took to the courts to compete in basketball, volleyball and other sports.
The initiative was established by the U.S. Department of Education's Office of Special Education to emphasize school-wide systems of support that include proactive strategies for defining, teaching and supporting appropriate student behaviors to create positive school environments. The V.I. Department of Education State Office of Special Education (SOSE) implements PBIS policies for the territories' public schools.