Twenty people concerned about the future of wildlife in the Virgin Islands were at the old estate great house in Estate Princess on Thursday looking for ways to lessen threats to native species.
The workshop held on Nature Conservancy property was to gain stakeholder input on a revision to the 2005 V.I. Wildlife Action Plan and to identify cooperative conservation priorities. The congressionally mandated wildlife plan needs to be revised to allow the Virgin Islands access to federal conservation grants.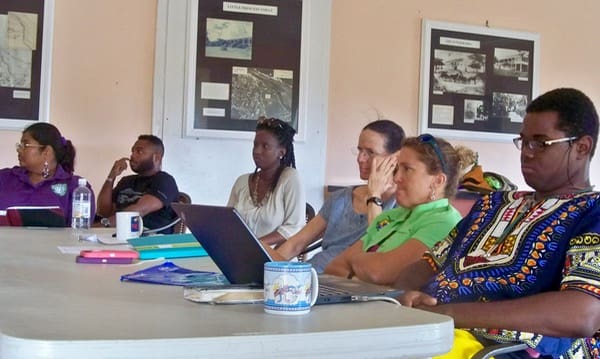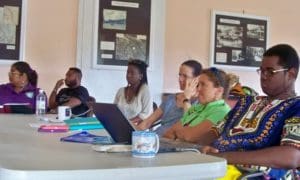 Attending the workshop were representatives from St. Croix Environmental Association, U.S. Forest Service International Institute of Tropical Forestry, University of the Virgin Islands, Department of Planning and Natural Resources, the Nature Conservancy, the St. Croix Hiking Assoc., National Oceanic and Atmospheric Administration, and U.S. Fish and Wildlife Service.
The morning session was conducted by Renata Platenberg of UVI. Attendees began by identifying the various habitats in the Virgin Islands, including beaches and shorelines, seagrass beds, guts, wetlands, forest, open water, mangroves and coral reefs. The attendees identified threats to these habitats and then, in groups, tried to come up with methods to alleviate those threats.
The habitats had many common threats according to the groups reports – overdevelopment, pollution, dumping and littering. The methods of alleviating the threats also were similar – education, enforcement of existing laws and getting residents to volunteer in conservation efforts.
After the morning session, Ivan Butcher, who was one of the representatives from St. Croix Environmental Association, said, "I have not heard anything new here."
Brent Murry, science coordinator for the U.S. Fish and Wildlife Service out of San Juan, agreed in a way. He said, "We can talk on and on about plans, but we need specifics."
One specific recommendation that everyone appeared to agree on was that representatives from the V.I. Department of Education needed to be brought into these type of discussions.
Leading the afternoon session, Murry asked attendees to come up with how they envisioned the landscape – natural and urban – on the islands in five or 10 years. He then asked if that vision is what people really wanted the landscape to look like. He said conservation groups are often good on high-level objectives but action needed to be taken at the ground level.
Murry represented Caribbean Landscape Conservation Cooperative, a partnership trying to advance science and action for the future of natural and cultural resources. This cooperative of conservation entities looks to conserve landscape while maintaining ecosystem integrity, human well-being, and the preservation of cultural and historical resources. It has two pilot programs in Puerto Rico and is looking to establish another in the Virgin Islands.
Murry said a similar meeting was held last month on St. Thomas and that another public meeting on the action plan is tentatively scheduled on St. Thomas for March 22.