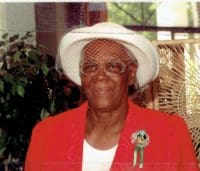 Sarah Jane Wallace died on Feb. 19.
She is survived by her daughters: Beatrice Baron, Beverley Carbon and Vincia Benjamin; sons: Augustus Sr., Wildaz, Glenn B., Olson, Berle, Ronald, Randolph, Mervin and Davidson Wallace; and grandchildren: Esworth Shaw, Jeff Baron, Carol Baron, Vernel Mitchell-Wallace, Augustus Wallace Jr., LaVerne Chin, Kenisha Wallace, Brian Wallace, Darion Wallace, Erin Wallace, Berle Wallace Jr., Rhona Wallace, Ronelle Thomas-Wallace, Tiffany Graham, Toneka Carbon, Leford Wallace, Isiah Wallace, Sheryl Wallace-Ravariere, Lesley-Ann Waldron, Dawnette Wallace, Jasmine Roy, Berlina Berube, Andre Philsbert Wallace, Davis Wallace, Derek Wallace, Jamaris Williams, Nigel Williams, Edvin Benjamin and Edphil Benjamin.
She is also survived by uncle, Wilson Leslie; nieces: Josette Mathew, Julie Ann and June Laudat; nephews: Asquith and Michael Archibald, Robert and John Baptist Laudat; cousins: Tilda Mascol and Benny Ducreay, Medora "Coun" Christmas, Nibbs Alexander, Enford Timothy, Vodlyn Timothy, Nurl Phillip, Myline Le Blanc, Bolton Timothy, Angela Timothy, Cecil Prevost, Rawl Leslie and many others too numerous to mention; special friends: Clarisa and Clarisse Joseph, Hermine George and Jacqueline Skelton; as well as other relatives and friends too numerous to mention.
A viewing will be held from 4-6 p.m. on Saturday, March 4, at Divine Funeral Service Chapel. A second viewing will be held at 10 a.m. followed by a funeral service at 11 a.m. on Sunday, March 5, at Central Seventh-day Adventist Church, Plessen. Interment will be at Kingshill Cemetery.