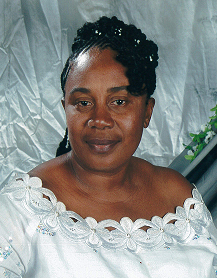 Sandra Jacqueline Francis-Johnson of Estate Barren Spot died on Feb. 7 in Fort Payne, Ala. She was 58 years old.
She is preceded in death by her mother, Hilda Adams Irvin; and brothers: Oswald Marsh and Rowand Irvin; aunt, Leah Francis; uncle, Walter Joseph; Florence; and brother-in-law, Nathaniel "Tan" Johnson.
She is survived by her father, George Francis; husband, Robert A. Johnson Sr.; son, Robert "Troy" Johnson Jr.; daughter, Sophia Johnson; adopted daughters: Soliel Vance, Heidi Clarke, Julie, Luki and Shaniqua Gerard; grandchildren: Jahhim, Diamone and Angellee Johnson, Marcus Vance, Brandon Nicholas Jr. and Jah'Knicka Nicholas; siblings: Victoreen Hazelwood (ANU), Lorraine "Verona" Marsh (St. Croix), Tyrone Hazelwood (Fla.), Emmette Irvin (Atlanta) Dion Irvin (St. Croix) and Elvis Francis (St. Croix); aunts: Naomi and Goldine Roberts, Rachel Francis and Ada Looby; and uncles: Dunstan Francis and Alexander Benjamin.
She is also survived by nieces: Teandra Hunte, Rosalyn Ambrose, Florence and Chantelle Marsh, Tricia Hazelwood-Fleming, Alicia, and Tiffany Hazelwood, Shanice and Janicia Irvin, Aliah Francis. Ruthlyn Joseph and family, and Jnette Graves; nephews: Robert Marsh, Oswald Marsh Jr., Tyrone Jr., Tyrone III, Alex and Anthony Hazelwood, Mitchel Lovence, Jerome Cornelius, Javid Francis, Dion Irvin Jr., Elsworth "Ikann," Iteba, Darnel, Malachi and D'Andre Francis, Irvin and Edmond Johnson; great nieces: Gabriella Passee, Venessia Burgos and Tyrell Ambrose; great nephews: Seth and Shaheem Phipps; and sisters-in-law: Marilyn Hazelwood, Glenice Marsh, Esther Joseph, Cynthia Daniel and Jacelyn Milton.
Other survivors are brothers-in-law: Arthur Johnson and Albert "Sonny" Johnson; cousins: Steve Roberts and family, Camilla Floyld and family, Margeret "Dokohoe" Williams and family, Whetherill and family, Hilda and Alexandra Hampson and family, the Adams family, Bernadette Bell and family, Dawn Soleyn and family, Desiree Christian and family, Carmen Anne Malloy and family, Joan Claxton and family, Maude Payne and family, Muriel King and family, Francis and Looby of Falmouth (ANU}, Clair Roberts and family, Cornell and Christine Johnson and family, Johnson family, the family of the Harbor Master Restaurant (Fortunata Pascal, Erald Clarke, Stachil Parker, Anne Daniel, Hazel "Marina" Palm, Ethelbert "Dixie" Gilbert, the late Hurchell Greenaway, the late Valenteen, Mary, Sarah St. Rose, Mrs. Annestine, St, Croix Watersports and the late Marion Hazelwood).
Survivors also include special friends: Eldonie Gordon, Lesroy "Happy" James, William Rodney, Eldone, Amos George, Patricia Philip. Rosea Anthony, Ms. Hazel "Nurse," Alphonsina Rogers, Elaine Roberts, Heather Dupaul, Theresa Douglas, Alice Jackson, Conrad Joseph, Eldora, Vivian Greenaway, Myrtle Francis, Vanessa Harigan, Sister Scott of N.Y., Pastor Haynes, the Bethel, Peter's Rest and Central Seventh-day Adventist Church families; as well as other friends and family too numerous to mention.
The viewing will take place at 9 a.m. followed by a funeral service at 10:30 a.m. on Sunday, March 5, at Bethel Seventh-day Adventist Church, Estate Williams Delight. Interment will be at Kingshill Cemetery.