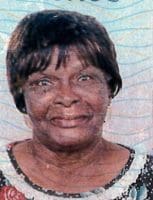 Pearline Heyliger, also known as "Mother P," "Mother Pearl" and "Grandma P," of Estate Richmond died on Saturday, Feb. 18. She was 87 years old.
She is survived by her daughters: Vywatt Heyliger David, Caroline Heyliger, Lorna Heyliger Hendricks, Paula Heyliger Browne, Hilda Heyliger George and Bernice Heyliger Ward (stepdaughter); sons: Calvin Heyliger, Desmond Heyliger, Rayford "Azzy" Heyliger, Clement "Champ" Heyliger, Howard Heyliger and Vincent Heyliger; and grandchildren: Clyde, Al, Jay, Dorain, Esmond, Ruben, Rema, Jamie, Jamiil, Howard Jr., Mikayl, Mykal, Clement Jr., Rambo, Netanya, Nyella, Christal, Nadirah, Loukisha, Iesha, Malisha, Sherrae, Reneisha, Jenelle, Whitney, Khadijah, Shenice, Courtney, Kemia and Ke'Andra.
She is also survived by four great-grandsons; 13 great-granddaughters; sisters: Judith Gumbs, Edna Richardson, Meread Huggins, Doreen Fergus and Marie Rissing; brothers: Ralph Gumbs, Arnold Gumbs and Howard Gumbs; 35 nieces; 22 nephews; 50 great nieces; 35 great nephews; and daughters-in-law: Avril Trotman Heyliger, Cheryl McIntosh Heyliger, Marsha Miller Heyliger, Lyrhea Bryan Heyliger, Monique Hewlett Heyliger and Elise B. Heyliger.
Other survivors include sons-in-law: Owen A. David, Curtis L. George and Keith Browne; seven grandsons-in- law; five granddaughters-in-law; brother-in-law, Labon Heyliger (UK); special friends: Elaine Douglas a.k.a. "Mother Laine," Congresswoman Donna Christensen, Lt. Gov. Gerard L. James II, Marylin Simmon, Averil George and Ann Marie Gibbs; as well as other relatives and friends too numerous to mention.
The family will receive visitors from 5-7 p.m., Thursday, March 2, at the James Memorial Funeral Home, La Grande Princesse.
A viewing will take place at 10 a.m. followed by a funeral service at 11 a.m. on Friday, March 3, at Ebenezer Methodist Church, Richmond. Interment will follow at Kingshill Cemetery.