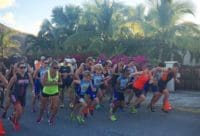 The Virgin Islands Triathlon Federation (VITF) held the VI Duathlon Championship race on Sunday, Feb. 19, in front of the Divi Carina Bay Casino on St. Croix's southeast end. With several newcomers on the line along with seasoned past winners of the event the field took off for the first leg of the run/bike/run event at 7 a.m.
The 1.1-mile run was led by Billy Bohlke, who set a blazing 5:37/mile pace. First-timer Michael Eden, the winner of last week's Toast To The Captain, was close behind. Once on their bikes, both Bohlke and Eden were swallowed up by VITF Vice President Stephen Swanton, followed by Dominic Pugliese, Troy Holloway, Wayne Nichols and relay cyclist Sue Brown.
Over the course of the 14.1-mile bike ride, several duathletes played "cat and mouse" including the top two women, Allison Janusziewicz and Esther Ellis. On the final run, Swanton solidified his gold finish in a time of 1:10:10, ahead of Junior Triathlete Dominic Pugliese in 1:11:59 and Dedrick Luikens, who pulled into third place almost immediately at the start of the 3.4-mile run. Janusziewicz widened the gap on the second run to maintain her lead on Ellis. Janusziewicz finished in 1:19:27 while Ellis finished second in 1:22:16. In her first duathlon, Annie Myrvang was the third female finisher in a time of 1:24:59.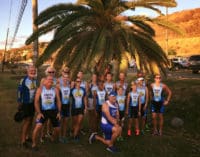 Fresh off her win at last week's Toast To The Captain race, Amy Roberts lead her two-person relay team from the start. She handed off to cyclist Robin Seila, last year's VI Duathlon champion, who tried her hardest to stay ahead of cyclist Sue Brown. Sue out-pedaled Robin and brought her two-person team into first place. Roberts pulled the team ahead again on the final run and finished with an overall time of 1:15:04. The team of Rachel Keaveny and Sue Brown was second in a time of 1:16:05, while the team of Heidi Snow and Mark Kennedy took home the bronze.
There were three competitors in the Try-a-Du race. Ten-year-old Mason Lambert led the .5-mile run ahead of classmates Kaeden Gleason and Jamie Wilkins. The three remained in that order for the hilly 8-mile bike and final 1-mile run. Mason finished in 33:14; Kaeden's time was 36:30; Jamie's time was 54:42.
Certificates and acknowledgement were given to Stephen Swanton and Allison Janusziewicz when they were named the Virgin Islands Duathlon Champions.
The next race on the schedule is the West Is Best Sprint Triathlon and Try-a-Tri at 7 a.m. on Sunday, March 5. The new starting place for the West Is Best will be at the Frederiksted Beach, just north of the tennis courts.
For more information, call 513-2707.