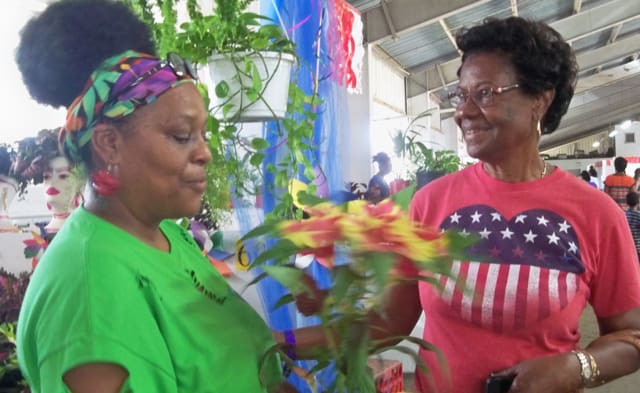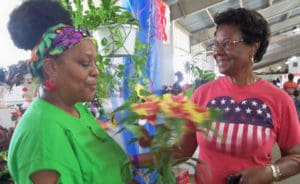 Inside the Reuben Liburd Farmers Market at the 46th annual St. Croix Agri Fest, tables and booths were piled high with peppers, pumpkins, pomegranates, pretty purple eggplants and plenty more.
The display of edibles and flowers shone, in smooth and leafy texture, all the colors of the rainbow. A natural, healthy aroma rose from the potted plants and vegetables so attractive you wanted to eat them on the spot.
During the long holiday weekend people came out in droves to purchase healthy, nutritious local produce, herbs and all natural botanical products. For some it is a tradition to buy a plant and keep it alive until at least the next fair.
Fairgoers carried tote bags full of produce and pots of healthy ornamentals in bright tropical colors when they walked out of the exhibition hall.
Edna Santiago has sold colorful variegated, curly-leafed coleus at the fair for around 10 years. She named her booth Coleus BKA Joseph's Coat of Many Colors. She said her grandmother grew them and always called them Joseph's Coat of Many Colors. Agnes Verhoff, who spends winters on St. Croix and summers in Cincinnati, said she wished she could take some coleus or seeds back to Ohio to plant in her garden.
"Gardening is my passion," Verhoff said. "I'm thrilled seeing the unusual plants like the coleus here at the fair."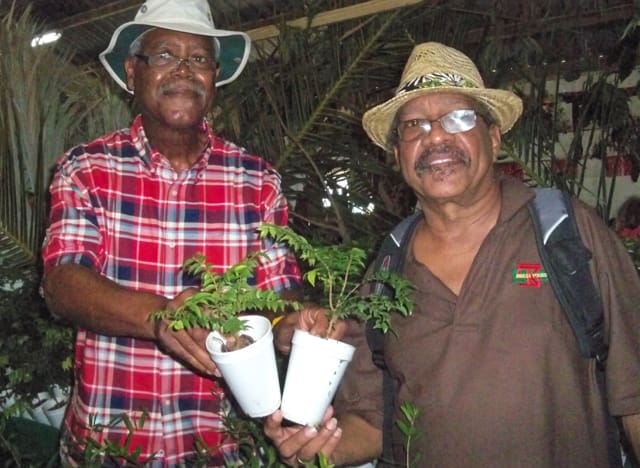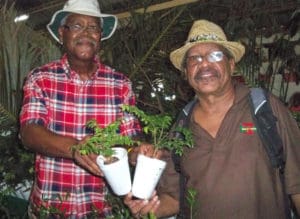 There was a wide variety of small potted shrubs and plants available for sale in the market and outdoors were larger trees.
Roy Pemberton had healthy looking fruit trees like black guavaberry and yellow, long neck avocado and pink pomegranate. He also said he has been selling potted fruit trees at the fair for more than 10 years. The guavaberry trees are always a big seller, he said.
At the Strictly Native booth outside the market, six- to eight-foot tropical and sub-tropical trees stood ready for planting. Arthur Petersen had all types of mango, avocado, citrus, coconut and exotic fruit trees near the west entrance so people didn't have to lug the large trees around the grounds.
Location means a lot to Rosalia Drew, who has had a booth near one of the first entrances at the market for years.
"Everything is selling and moving fast," Drew said as she weighed peppers for a customer. "I believe the location helps."
She was selling a lot of turmeric, a root similar to ginger, that health experts say might be the healthiest herb on earth that benefits nearly every system in the body.
Dorcas Griffin said she was selling a lot of herbs and ornamentals. Griffin, who loves ferns, always has a few new varieties added each year at the fair. New this year was a bright green lacy leaf butterfly weed.
Ajamu Benoit had natural healing oils, African black soap and seasonings he dried for sale. He also had pineapple plants around two feet tall ready to go in the ground.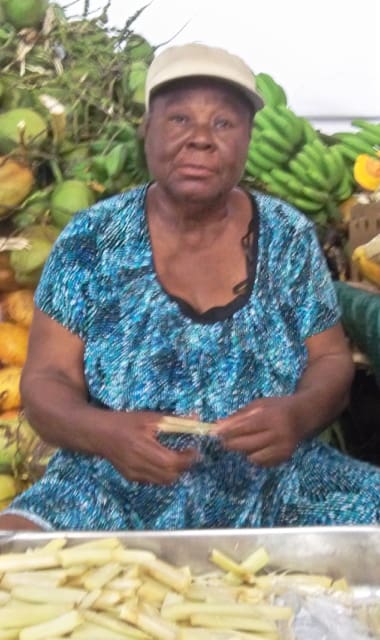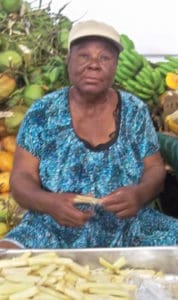 "Ideally the plants should have a garden space that is two square feet," Benoit said. "And for them to put off fruit they have to be properly weeded all the time."
Violet Drew, an award winning farmer and owner of Ra's Sonrise & Daughter Stand, said some of her plants still haven't recovered from the drought of 2015.
It didn't appear that she had any shortage of fresh vegetables, herbs and seasonings she makes from scratch. She said she likes to come up with something new every year for the fair and this year she had kale chips along with new flavors of cassava bread. She added last year she started grinding cassava and breadfruit for flour she packages in one pound bags. And this year she has been grinding black-eyed peas into flour.
"I love cassava bread," Vicki O'Reilly said as she purchased a package of bread. "I'm happy I found it here. The cassava bread sold in stores isn't very good or fresh."
There were plenty of skincare products made from botanicals available for purchase.
Toni Downs of Queen Caribee had a number of different products made with honey. She produces lotions, body butters, soap and candles made from honey.
Rain Tree Botanicals had handmade earth friendly skincare products. There were healing salves, body scrubs, muscle rubs, deodorant and balms all made with natural ingredients.
The fairgrounds closed Monday at 6 p.m., but most of the farmers selling products at the fair generally sell at the La Reine Farmer's market Wednesdays and Saturdays where people can buy produce and natural botanical products year round or folks can wait until next year's fair.