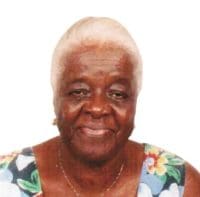 Rita M. Phillips of Estate Two Williams died on Monday, Feb. 6. She was 78 years old.
She is preceded in death by her mother, Ena Francis; father, Alexander I. Wilson III; sisters: Rose, Gloria, Valarie and Juliette Wilson; brother, Ancelmo Wilson; niece, Naomi Wilson; and nephews: Carlton Cornelius, Levi Wilson, Wilfred Wilson, Wayne Henry and Kwame Ballantine.
She is survived by her children: Alvin and Winton Philips and Troy Johnson; adopted sons: Oswaldo Graham, Alfredo Herbert and Malachi Phillips; sisters: Ada Granger, Doris Peterson and Corliss Nathaniel; brother, Alexander Wilson II; grandchildren: Hashma Phillips, Saiedah Phillips-Johnson, Hashim Phillips, Aneesa Phillips, Semoya Phillips, Taheem Phillips, Qiahna Williams, Hai'Le Phillips, Ha' Shaii Phillips, Blessing Phillips, Hadiya Phillips, Hasani Phillips and Syeed Phillips; and great-grandchildren: Alaysia Johnson, Antwon Johnson Jr., Tahliyah Phillips, Tahmia Phillips and Danyscia Jarvis.
She is also survived by nieces: Myrna Mathurin, Theda Dennis, Tracy Encarnacion, Tiesha Ballantine, Nicole Nathaniel, Josephine Granger, Sherri Granger, Monique Wilson, Marisa Wilson Tracy Wilson, Ingrid Burton, Gloria Briggs and Camaris Payne; nephews: Kevin Kiture, Cedric Petersen, Mark, Craig, John-John Wilson, Elliot Wilson, Roland Wilson, Christopher Ross, Williams Ross and Roland Granger; 24 great nieces; 21great nephews; 21 great-great nieces; 20 great-great nephews; and godchildren: Wayne and Dwayne Dennis, April Brown, Kevin Christian, Sheniqua Christian and Elise Georges; sister-in-law, Ernestine Wilson; and extended family: the entire LaVallee Community, Laurleen Knight and family, Unita Johnson and family, Wilbur Abramson and family, Alice Lang and family, the Christian family and the Cornelius family.
Other survivors include special friends: Ann Doute, Patricia Forup, Jean Ross, Lydia Thomas, Catherine Braham, Dorothy Struan, Adelbert Bryan, John Bell Sr., Karen Williams, Claudia Pena, Schnell Remy, Timothy Duncan, Juanita Benitez, Laurissa Prince, Merle Findley, Nicasio Nico Jr., Yvonne Liburd, James Sealy, Gerald Evans, Ruth Melendez, Jacqueline Williams, Damaris Griffith, Lydia Thomas, Kenneth Henry, Elroy Harrison, Gwendolyn Fludd, Maude Roberts, Nancy Crane, Evelyn Boynes, Gloria Marcus, Frances Clouden, Marge Benson, Alfreda Hopkins, Ezra Nanton, Cancuela and Curdy Maynard, Mr. and Mrs. Gregory Ballantine, Miguel Diaz, Paulette Gordon, and Nisan Steinbergen and family, Doreen James and family, Rhenita Charles and family, and Christiansted High School Class of 1958; as well as other relatives and friends too numerous to mention.
Acknowledgements: Juan Luis Hospital ER (old staff) and Dialysis Unit staff, AARP Saint Croix, Lord God of Sabbath Lutheran Church and the Virgin Island Lottery (Saint Croix).
A viewing will be held at 10 a.m. and a funeral service at 11 a.m. on Wednesday, Feb. 22, at Lord God of Sabaoth Lutheran Church, Christiansted. Interment will follow at Kingshill Cemetery.
Burial arrangements are by James Funeral Home Inc.