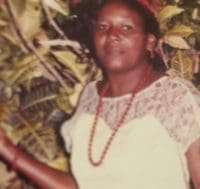 Mary Viola Joseph, affectionately known as "Baby Ruth," was born to Eliza Edwards and Alfred Joseph in Antigua, West Indies. She returned to her savior on Saturday, Jan. 21. Baby Ruth received and completed her education at Antigua's Green Bay schools. She worked as a seamstress and waitress in Antigua. In 1987 she relocated to St. Croix, where she worked at St. Croix Carambola Beach Resort.
She was preceded in death by her parents: Eliza Edwards and Alfred Joseph; brother, Jerome Benjamin; sister, Rosetta Edwards; and nephew, Tony Gunthrop.
She leaves to cherish her memories her children: Olivette Grey, Debbie Brathwaite and Melvin Dwight Spencer; sisters: Sylvia Mann (St. Croix), Christabelle Joseph (Antigua) and Anna Joseph (Worchester, Mass.); brother, Dalma Williams (St. Croix); four grandchildren; eight great-grandchildren; and nieces and nephews to include: Hyacinth, Natasha, Keithroy, Favel, Rowan, Vernon, Leon and Daniel.
She is also survived by special cousins: Thomas Merchant, Hyacinth Browne, Conrad Byrd, Sheila Thomas (Kitty), Jean Byrd, Eunice Ambrose (Nicey), Alphonso Meade (Frankie), Naomi (Sandra) Joseph and Heather Aska; as well as other cousins and friends too numerous to mention.
A Memorial Service will be held Monday, Feb. 13, at Wesleyan Holiness Church located at 3BD Calquohoun.