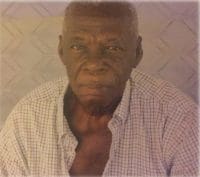 Stanley Alfred Lewis died on Jan. 31.
He is survived by his spouse, Glendora Lewis; daughters: Cheryl Coates, Dawnie Yorke, Stacy Hewitt and Joann Lewis; grandchildren: Sherika and Rowan Coates, Kevin and Kendal Yorke, Jonelle Rosario and Sanay Hewitt; great-grandchildren: Kadence and Kara Lue-Yorke, Zeniah and Ayanna Richards, and Ashayla Coates; and brothers: Tyrone Lewis, Noel Lewis and Rufus Lewis.
He is also survived bysisters: Marvell, Cora Helene and Milicent Lewis; nieces and nephews: too numerous to mention; cousins: too numerous to mention; special friends: Walcott Steele, Pauline Thomas, Kathleen Francis, Ineta Thomas, Tyrone Ambrose, Arnold Browne, Christine King, Robertine Daniel and the LaReine Market family; as well as other relatives and friends too numerous to mention.
A viewing will be held from 3-5 p.m. on Wednesday, Feb. 15, at Divine Funeral Service Chapel. A second viewing will be held at 9 a.m. followed by a funeral service at 10 a.m. on Thursday, Feb. 16, at St. Peter's Episcopal Church, 38 Castle Coakley. Interment will be at Kingshill Cemetery.