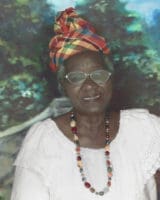 Rosalie Anna Denis, known by most as "Ms. Anna" or "Mama," was born on Sept. 4, 1936, and died on Jan. 21 in Bronx, N.Y.
She was preceded in death by her mother, AnneMarie Patricia Damase of Soufriere, St. Lucia; and sister, Camilla Norma Baptiste of St. John, USVI.
She is survived by her 10 children: Mary Stansilaus Neblett (Jack) of Florida, Jean Bristol Joseph (Claudius) of New York, Mary Theresa Thompson (Robert) of New York, Joseph John Fulgence of St. Croix, Paula Fulgence Shoy (Fitzroy) of St. Croix, Guy Fulgence (Luz) of St. Croix, Marie Pierre Browne (Dexter) of Georgia, John Gaulbert Jean of Texas, David Denis (La Niece) of New York and Matthew Denis (Xiomara) of St. Croix.
She is also survived by 35 grandchildren; 38 great-grandchildren; one great-great-grandchild; brothers: Remy Rosmond Pierre and Silvain Pierre; sisters: Elfrida Lake and Paula Moses, all of the United Kingdom (England); aunts: Mary Lera Michel (St. Lucia), Mary Uraliss Pierre (Guadeloupe) and Cecilia Nicholas (Massachusetts); many nieces, nephews, cousins, godchildren and friends.
The family will receive visitors at the viewing from 3-5 p.m. on Thursday, Feb. 16, at James Memorial Funeral Home in Princesse.
The viewing will take place at 9 a.m. and the funeral service at 10 a.m. on Friday, Feb. 17, at St. Ann's Catholic Church in Baron Spot. Interment will follow at Kingshill Cemetery.