The U.S. Virgin Islands may have been shortchanged by as much as $100 million in federal excise tax revenues, according to Delegate Stacey Plaskett (D-VI.)
Plaskett, who met with House Speaker Paul Ryan (R-WI) Jan. 31 to discuss the V.I. financial condition, met later in the week with Department of Interior and Treasury officials to discuss federal government support of the local government's effort to overcome its financial challenges, according to her office.
During the meeting, Plaskett highlighted research conducted by her office which uncovered the possibility that V.I. cover over revenues since the Diageo Agreement may not have been properly adjusted to reflect the new production of rum in the Virgin Islands, denying the territory tens of millions of dollars over time.
The money in question comes from federal alcohol excise taxes on liquor imported to the United States from other nations. Puerto Rico and the USVI both get back nearly all of the federal taxes on their own rum production, but under the Caribbean Basin Initiative, enacted by Congress in 1983, the U.S. Treasury splits much of the tax revenue from rum imported into the United States by other nations too. Each territory gets a share determined by a complicated formula tied to each territory's market share, relative to each other. Treasury regulations provide that the USVI can earn between 12-49 percent, with Puerto Rico qualifying for 51-88 percent.
In recent filings to the SEC, Puerto Rico talked about declining rum production coming to the U.S. because of Diageo coming online in the Virgin Islands, Plaskett said, speaking with reporters by phone Monday.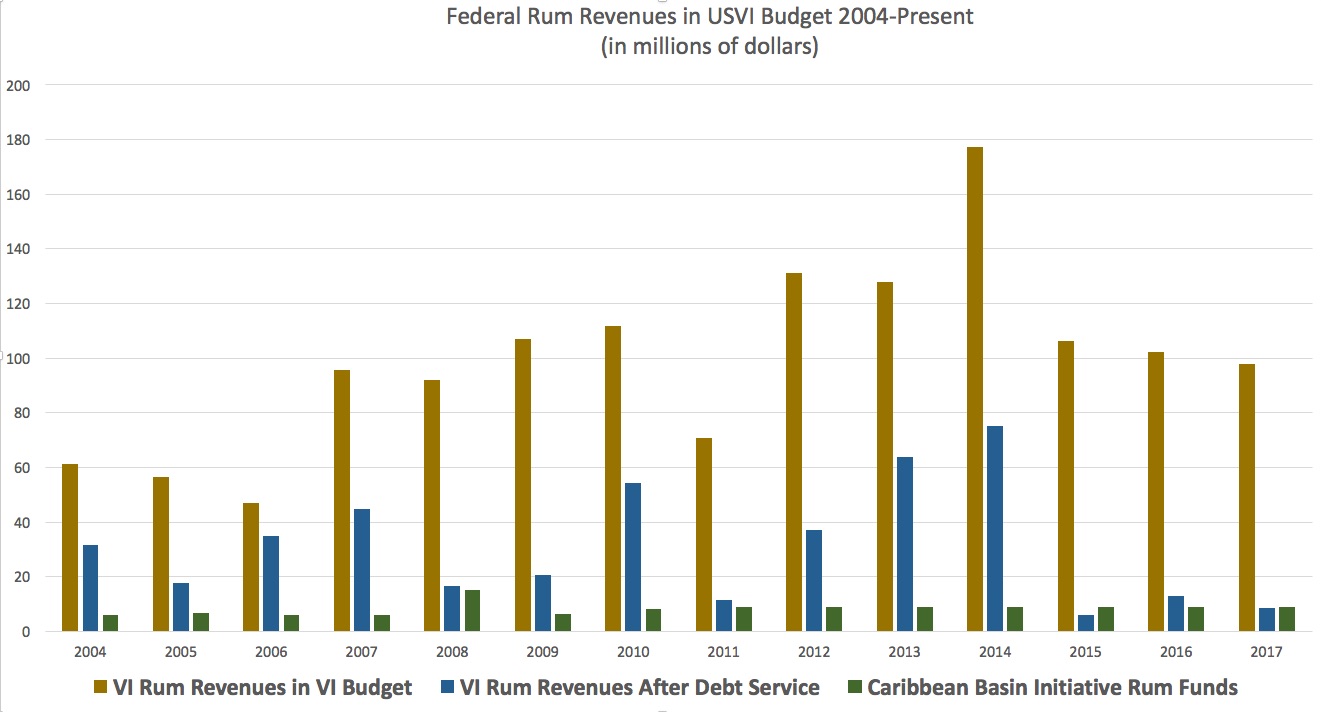 "But they (Treasury) continually put Puerto Rico at 88 percent or above and the Virgin Islands at the floor," she said.
Several years ago, the delegate from Puerto Rico introduced legislation to cap rum subsidies, which the U.S. Virgin Islands opposed. (See Related Links below) Another part of that bill that got less attention would have fixed Puerto Rico's share of the worldwide rum revenue, Plaskett said.
"But Congress did not pass that measure, so Treasury should be periodically changing the proportion," she said.
For example, based on the percentage of excise tax revenue each territory's rum production generated, "we should have brought like $20 million in 2013. … So over the period Diageo has been here, we are seeing a significant amount of money that we have been losing and it needs to be recalculated," she said.
The USVI actually received $8.9 million in Caribbean Basin Initiative funds in 2013 – down a little from $9 million in 2012 and 2011, but a bit more than the $8 million received in 2010. Diageo began selling the first of its USVI-produced rum around March 2012. Caribbean Basin Initiative Funding has remained flat for years, despite a fairly sharp increase in total rum production.
Figures from recent V.I. government executive budgets show a big increase in revenues in 2012-2014. They appear to drop off a bit in 2015-2017. But that decline is largely a budgetary illusion because the government rum revenue figures do not include federal rum revenues used to pay subsidies to St. Croix's two distilleries, or revenues being used to pay debt service on some $273 million in special bonds to build the Diageo distillery and improve the Cruzan distillery, beginning in 2014. (See graphic: Federal Rum Revenues in USVI Budget.)
Asked what she could do to make the recalculation happen, Plaskett said she has spoken with Treasury officials and will follow up.
"At that meeting I made a formal request for them to review it," she said. "But at the end of the day, the money comes to the USVI Treasury," and the V.I. commissioner of finance and other V.I. executive branch officials overseeing the USVI treasury are the parties who are aggrieved here, she aid.
"I hope its an oversight. But we need to get to the bottom of it because we are not getting as much money as we deserve," Plaskett said when asked why she thought the proportion had not been recalculated.
After Plaskett's announcement Monday, the V.I. Republican Party issued a statement calling Plaskett's inquiry "petty partisanship" because President Donald Trump is in office now.
"Congressman Plaskett (sic) conveniently ignores the fact that it was her political party that ran the Treasury Department for the past eight years, Why didn't Congresswoman Plaskett speak out sooner if she believes the Virgin Islands has been shortchanged?" V.I. GOP spokesman Dennis Lennox said in a statement from the party. "Waiting until the new president took over to blame the new administration is yet another example of petty partisanship on the part of Congresswoman Plaskett," the V.I. GOP statement continues.
Diageo rum began being sold in the U.S. around March 2012, so the first revenues remitted would be after that date. Plaskett spoke about an accumulated amount over the past several years, not the current year, and did not mention Trump or political parties.