Along with discussing the various aspects of the Cloud, how it works and how companies can protect their data, the duo behind OmniSystems Inc. said Tuesday that the real purpose of their annual expo and conference on St. Thomas is to get the territory in a position where technology is "part of how we operate every day."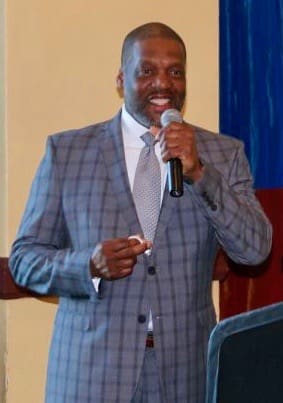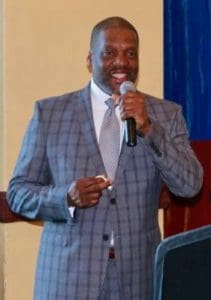 The free three-day expo hosted by business partners Ian Tomlinson and Reginald Vigilant has been held for the past three years for local information technology professionals, human resources managers and representatives from both private businesses and government agencies. Kicking off the expo Tuesday, the cofounders gave an overview of the conference, which focused on "the Cloud" and its evolution.
"What's beautiful about the Cloud infrastructure is that you don't really have to deal with it," Tomlinson explained later. "It's built on the same sort of computers that you would have in your organization; it's just that someone else is managing it. The real difference is that someone has a place where they might have several thousand of those computers, a network, and you're just gaining access to them from your house or business."
Even in a small community, migrating to cloud computing is important because it keeps everyone from small businesses to larger government agencies connected, he added.
"This is the way the world is going," Tomlinson said. "Really, it means that you can have the latest of something. If you subscribe to Amazon or Microsoft as a Cloud provider, they will probably have the latest technology and will be refreshing that technology every year, while if you're just maintaining a server in your office, you probably won't be doing that. And if you don't keep up, you get left behind."
Locally the Cloud is being used within the government on a smaller scale but Bureau of Information Technology Executive Director Angelo Riddick said Tuesday that his goal is to make it a large part of his cybersecurity strategy.
Putting government data in a place where it can't be affected by natural disasters but still accessible to everybody is particularly important, Riddick said during the conference.
"We have to understand what's going on in all agencies and that means coming up with a configuration control board, or a collaborative environment where we can all work together across the board," Riddick said.
Riddick said he has been tasked by Gov. Kenneth Mapp to focus on security measures, including cybersecurity, across all islands, and that also means using the Cloud as a data hub for everything from license plate readers to digital signature databases.
More security cameras will be popping up on St. Croix within the next six months, Riddick said, adding that that he will be actively trying to help launch the Real ID system locally so that Police Department and Bureau of Motor Vehicles officials can collaborate with other agencies in getting drivers' profiles.
Within 60 days, the government is also going to making a push to go paperless, which Riddick said involves collecting the digital signatures of all agency and department heads and other government officials so that documents can move more quickly through the approval system.
Riddick added, however, that collecting all of this data means creating an infrastructure where it can be stored off-island in a place that is disaster-proof and accessible. And if that means using the Cloud, there needs to be an improvement in reliable bandwidth on-island, he said.
"We are working with the internet service providers, with the V.I. Next Generation Network, and others to improve the efficiency of connectivity," Riddick said. "We want to take some of the hardware devices we're using and put them in a place where everyone can excess them, for example, but in order for the Cloud to work, we have to have reliable bandwidth."