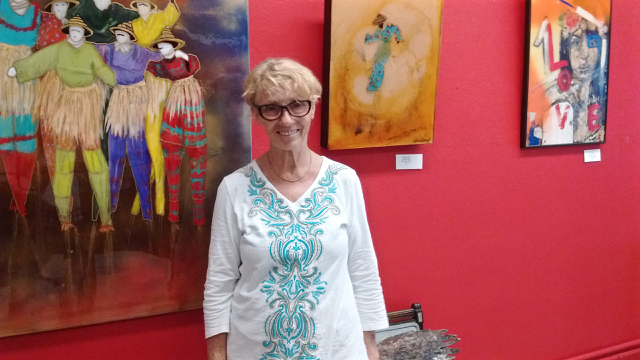 Hanne Rasmussen says her goal is to let people know that high quality art is being produced on St. Croix.
Walking through the spacious three-rooms of her gallery – Art@TopHat – at 52 Company Street in Christiansted, it would appear she is successful. The gallery presents diverse fine art from diverse local artists as well as handcrafted jewelry, local pottery, and antiques.
Presently in the gallery are works by Brianne Casal, Lucien Downs and Cindy Male.
Casal, who presently has some dramatic, large-scale water colors on display, "has exceeded herself in producing the work for this exhibition," Rasmussen said.
She is also excited by a new exhibition to open Feb. 2 at her gallery, with an artist reception from 5 to 8 p.m. The featured artists are Roy Lawaetz and Trudi Gilliam, both of St. Croix, and former Crucian Nii Ahene-La. The exhibit is titled "2Tribal Renegades & Trudi Gilliam."
Lawaetz first met Nii Ahene-La in the early '90s when Nii Ahene-La was the designated art curator at Fort Frederik Museum in Frederiksted. There he curated a Lawaetz exhibition. Their artistic friendship converged again professionally, according to a press release, in 2008 at the Martin Luther King Jr. Center in Paris, where both had works selected by an international jury panel for the 60th anniversary of the Universal Declaration of Human Rights.
Gilliam sculpts subjects such as owls, wild flowers, tropical fish, pelicans and other sea life in copper.
The Top Hat opened as an art gallery in 2010. Most St. Croix residents remember the Top Hat restaurant that Rasmussen operated with husband Brent Rasmussen more than 40 years. The couple started their restaurant career before that by operating the Mermaid Restaurant at the Buccaneer. Neither of them are traditional artists, but"Brent is an artist in a way. He is a fabulous chef," Rasmussen said.
She said running the art gallery is not about making money.
"If it was we would have closed down a long time ago," she said. "I love people. I love to see the joy in their eyes when they find a piece of art that they want to take home."
Above the exhibition rooms on the ground floor are stored more art and antique pieces available for sale that can be viewed on request. In the back exhibition room at the ground floor is a long narrow table with books displayed, most of local interest.
"If you write a book, that is art," Rasmussen said. "Not everyone needs a painting for their home, but an interesting book always works."
When she was asked about St. Croix's future, a shadow seemed to cross her face, but she quickly recovered.
"I love St. Croix. I think it is a wonderful way of life, but to make a living can be tough. If we are to survive the government has to become more business friendly."
She talks about businesses collaborating too. Top Hat has been supplying the art that has been exhibited at Balter's restaurant just down and across the street from her gallery.
Rasmussen's eyes light up when she talks about youngsters who come through the gallery with an adult willing to talk to them about the art. Teachers from St. Croix Educational Complex and St. Croix Central High School have arranged to have field trips through the gallery.
"We have some amazing teachers," she said.
The gallery does it part in educating budding artist by providing a place each Saturday for a watercolor class. Expert assistance is provided by Marilyn May and each session costs $25.
More information about the class and the gallery is available by calling 340-227-1535.