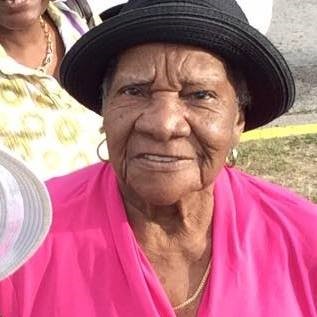 Berly Prince, also known as "Mama," from St. Kitts, who resided on St. Croix, died on Jan. 20. She was 87 years old.
She was preceded in death by her husband, Cedric Prince, and grandson, Isaiah Prince.
She is survived by her daughters: Sandra Percival, Joyce Mascall, Marvo Gilbert and Valencia Creighton; sons: Desmond Stokes, Roy Stokes, Glenford Prince, Frederick Prince, Everton Prince, Ruel Prince and Leighton Daniel; and grandchildren: Sharmaine Creighton, Shaudae Prince, Christina Creighton, Marvin Gilbert, Ianna Gilbert, Kimrah Brotherson, Soraya Mascall, Ja'ir Mascall, Eric Prince, Cilva Prince, Kimberly Prince, Tannika Prince, Ancele Prince, Sanell Percival, Royston Percival, Vernon Percival, Nonceba Prince, Glenford Prince, Calmin Rivera , Sherece Stokes, Jermaine Stokes, Nuri Mills, Brittany Mills, Brandon Mills, Dervonj'e Stokes, Ajhanny'ae Stokes, Xhoniyea Stokes, Nerissa Daniel-Thomas and Leon Daniel.
She is also survived by great-grandchildren: Deaja Canton, Devante Canton, Trevor Prince, Aiden Francis, Keyron Kelly, LaNaliayah Kelly, Jahmani Percival, Jaden Percival, KyAnna Prince, Ancele Prince Jr., Isaiah Prince, Jermaine Prince, Nyla Cickins, Jeremaine Stokes Jr., Jaala Stokes, Joelee Stokes, Jamari Stokes, Jamia Stokes, Joseph Stokes, Joshua Stokes, Jordyn Stokes, Jacobi Stokes and Jeremai Stokes; sons-in-law: Llewelyn Mascall and Joseph Gilbert; and daughters-in-law: Cuthlyn Stokes and Jacklyn Daniel.
Other survivors include brother-in-law, St. Clair Percival; godchildren: Wrenvill Smithen, Cynthia (Boureux) and Charleen Johnson; special cousins: Marilyn Walters, Anette Francis, Violet Williams, Bernadine Brown, Shelya Warner, and Simon Williams and family; special friends: Jenny Tutien, Ericka Prince, Dosin and Josephine Williams and family, Martha Johnson (Lodge Village), Dora Wigley; as well as other relatives and friends too numerous to mention.
The viewing will take place at 10 a.m. and the funeral service at 11 a.m., Monday, Jan. 30, at Central Seventh-day Adventist Church, 17-A Estate Plessen. Interment will follow at Kingshill Cemetery.