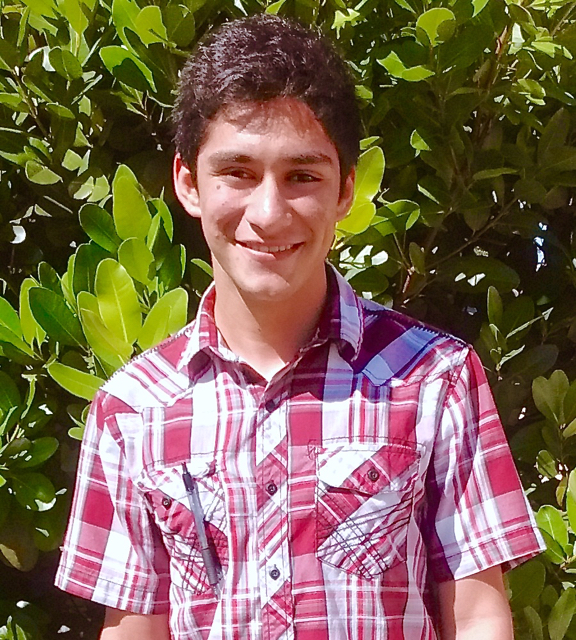 For as long as he can remember, Mario Capriola has wanted to be an actor. The senior class president at Good Hope Country Day School said he was always play acting and pretending to be characters on a stage.
The dark-haired 18-year-old said as a boy he ran home from school to watch certain TV programs with characters to which he could relate. The animated show "Recess" was one of his favorites.
"When I'm acting I'm not Mario," he said. "I'm someone else. A different person. I have a passion for acting."
He began acting when he was in primary school with the Calico Cats at Caribbean Community Theater and at Country Day. In acting he found a strength and something enjoyable and fun that was beneficial to him.
And there were few of those in his life, as he was distraught and felt dumb. For years he struggled and had difficulty reading. Educators thought maybe it was because his family and he are bilingual and he got confused. His mother teaches Spanish at the school and he tutors students in Spanish.
When he was a freshman, Wendy Canning, a language and learning specialist at GHCD, began to suspect he had dyslexia. Dyslexia is a general term for disorders that involve difficulty in learning to read or interpret words, letters, and other symbols, but do not affect general intelligence.
Capriola hasn't been diagnosed by an expert, since there aren't any on St. Croix, but he is pretty sure he does have the condition. He reads a lot slower than his class mates, he said, and it can be mentally exhausting. Taking the SAT was tough since everything is timed. He is still working at overcoming his difficulties.
"With God I triumph," he said.
He is doing his senior thesis on dyslexia and neurodiversity, which is the range in difference in individual brain function.
As a member of the school drama club, he has acted in the school fall comedies and spring musicals, playing Pinocchio in "Shrek" and a Costazuela brother in the female version of "The Odd Couple." He also has helped with the elementary school student productions.
"Doing plays are a riot and so much fun for me," Capriola said.
He finds art and theater outlets that are relaxing and refreshing. He enjoys painting and is in the National Art Honor Society. He is on student council and says he is a political junkie. During the Source interview Friday he didn't want to "waste time" talking about the new president.
He has taken part in the Destination Imagination Program three times. Teams work together to find solutions in open-ended challenges.
"It was always fun to go to the competition because we were the only team representing islands, so we were in the opening ceremonies," Capriola said about a trip to the University of Tennessee.
He said his parents, David and Olga Lucia Capriola, encourage and support him in everything he does and he values the loving and happy relationships they have. He says he is a liberal Catholic and his faith plays a big role in his life. His mother is from Bogotá, Colombia, so he has had the good fortune to travel and visit family there. His father is from New Jersey so he gets to make trips to the states too.
He is looking at universities that are close to the theater district in New York. He is looking at Drew University in New Jersey, since he has family in the area, and Adelphi University in New York.
Capriola plans to get a double major in theater and environmental science. He would love to act in the television industry but he knows he needs a backup plan, so he plans on a career working in marine laboratories in research and data recording. He said since he has grown up in the Caribbean he is partial to tropical ocean research and he loves to snorkel.
He said his greatest accomplishment was attending a Coral Conservation Program in the Florida Keys at the Mote Marine laboratory last summer. He experienced problem solving, team work, doing research, data collection and analysis.
"It was such a rewarding experience," Capriola said. "Field work is fun but recording research results make a difference, it's rewarding and the record is always there."
"I'm worried about the future of the environment and I want to help," Capriola said.