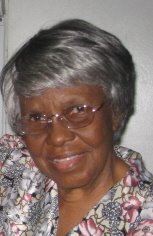 It is with deep sadness that we announce the death of Mrs. Ruth Marie James, age 85, from Dominica who resided on St. Croix and most recently in Suwanee, Ga. She passed away peacefully at home on Jan. 13, surrounded by her devoted husband of 65 years and children singing "How Great Thou Art."
She was preceded in death by her mother, Julia Paul; father, Israel Francis; and brother, David Francis.
She dedicated her entire life to music education and ministry in Dominica before relocating to St. Croix where she taught at the Freewill Baptist School and Alexander Henderson Elementary School.
Left to mourn are her husband, Rev. Henry James; nine children: Melvin (Fla.), Henrison (Ohio), Anne (S.C.), Adelbert (Ga.), Meldora (Ga.), Julia (N.Y.), Orville (St. Croix), Priscilla (Fla.) and Duane (Calif.); three daughters-in-law: Ardel, Lynna and Rosilda; two sons-in-law: Harold Piper and Keith Beckwith; nine grandchildren: Harold Piper III, Belinda-Rose Young, Orvane Piper, Chanele Haynes, Laverne Piper, Brendon James, Bria James, Alexa James and Ethan James; two sisters: Alex Deschamps (Mass.) and family, and Marylyn Lewis (Fla.) and family; two brothers: Clem Francis (Dom.) and family, and Derrick Francis (Dom.) and family.
Also left to mourn is the family of her brother David Francis who preceded her in death; cousins: Florence Boland, the Francis, Defoe, Gregoire, Fontaine and Harper families, members of Central Nazarene and Midland Wesleyan Holiness churches on St. Croix and Christian Union churches in Dominica; as well as other family and friends too numerous to mention.
The funeral service will be held at noon on Saturday, Jan. 28, at Friendship Baptist Church in Atlanta, Ga.
Funeral services are entrusted to Crowell Brothers Funeral Homes & Crematory, 5051 Peachtree Industrial Blvd, Peachtree Corners, GA 30092 (Tel:770-448-5757; Web site: www.crowellbrothers.com