The running of the 35th Annual 3 Kings Mile gets the adrenalin flowing for every participant no matter how many show up for the run that kicks off the Crucian Christmas Festival Adult Parade. Like the Children Race the day before that kicks off the Children's Parade, the races start at 10 a.m. sharp, and they follow the parade routes to the finish at Fort Frederik.
Billy Bohlke has led the runners to the finish line in this race on many occasions. He mostly grew up on the Frederiksted course and as a youngster had battles in the Olympic Day Run, a 2-miler that started and finished at the 3 Kings Mile finish line.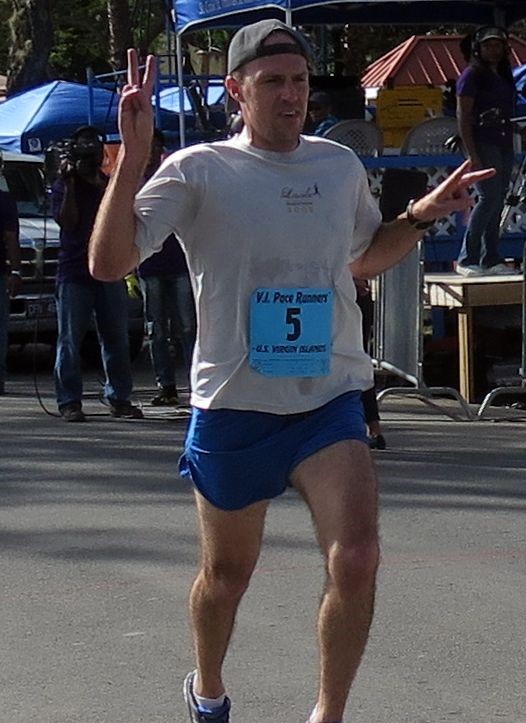 While a bit beyond his prime as the top distance runner at LSU, at 38 he still loves the race with the fast, slightly downhill route and the cheering hometown crowd supporting the runners all the way. In Saturday's race the young Mikeala Smith used her middle-distance speed to hang with Billy for the first 500m, and when he turned the corner of King and Fisher streets, he was at 2:32 for the half-mile. With his strength and experience he ran a negative split (faster second half of the race) to take first place overall with a time of 4:49.
Mikaela Smith of the St. Croix Track Club and St. Croix Educational Complex High School won the female race (her first 3 Kings Mile after dominating the Children Race for years) and finished second overall with a time of 5:05; Randall Nielsen of the Superior Court was the second place male and on the heel of Smith in 5:05; Dexter Hypolyte WAPA was the third male in 5:30; Chuck Butcher was fourth in 8:50 and Willie Lewis was fifth in 8:49. Amy Roberts was the second place female in 5:34; Aneila Austrie of the St. Croix Track Club/St. Croix Educational Complex was third in 5:59; Stefanie Mathew SCTC/ECHS was fourth in 6:01; Danille Joseph was fifth in 6:59.
For information, e-mail wallacewilliams@msn.com, call: 643-2557 or logon to: http://virginislandspace.org