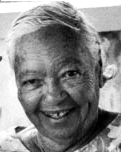 Ana María Román Schuster, was born March 31, 1917, on the island of Vieques and moved to St. Croix in 1922, died at sunrise on Jan. 3.
Her sister, Amelia Román, and her husband, Charles Schuster, preceded her in death.
Surviving her are her brother, Rev. Manuel R. Román; sons: Robert "Bobby" and David Schuster; daughter-in-law, Georgene Schuster; grandchildren: John David, Lauren Whitney Crone, Kai Brandon Schuster and Carly Mariah Schuster; grandson-in-law, Jeff Crone; and granddaughter-in-law, Dr. Angel Bradshaw Schuster.
She is also survived by great-grandchildren: Kaylee Jae Schuster and Henry Schuster Crone; and the many branches of the Schuster, Johansen, Shaubah and Marcial Morales families. She also leaves behind dear friends, both on St. Croix and elsewhere, relatives on Vieques, Culebra and Puerto Rico, and wonderful caring former and current employees and caregivers; as well as other relatives and friends too numerous to mention.
There will be a funeral service held at 10 a.m., Wednesday, Jan. 18, at Holy Cross Catholic Church. Interment will follow at Kingshill Cemetery.