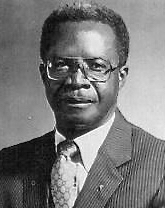 Former Virgin Islands senator, commissioner and Legislative chief legal counsel Eric E. Dawson died in Melbourne, Florida, on January 2. He was 79.
Senate President Myron D. Jackson noted Dawson's death during Monday's initial session of the 32nd Legislature and called for a moment of silence in his memory.
Dawson, who held posts in two of the three co-equal branches of the Virgin Islands government, served as commissioner of the then Department of Economic Development and Agriculture from 1987 to 1994. While in that position, he led the government's public relations and marketing efforts to return visitors to the Virgin Islands after Hurricane Hugo struck in 1989.
The native Virgin Islander entered government service in 1965 as executive secretary of the Legislature. He sought elected office and served in the Senate from 1972 to 1979 and again from 1985-1987. Dawson advocated regularly for the territory's young people, sponsoring legislation that allotted funding for youth summer employment. He ran unsuccessfully in 1978 on a Democratic gubernatorial ticket with former Virgin Islands Congressional Delegate Ron de Lugo. Dawson also held the position of chief legal counsel to the 15th Legislature in 1983 and in the Third Circuit Court of Appeals in 1984. Dawson was chairman of the governing board of the Virgin Islands Port Authority when the Cyril E. King Airport terminal on St. Thomas was dedicated in 1981.
As president of the Boy Scouts of America, Virgin Islands Council, Dawson regularly sought members of the community to support the scouting program. He noted that only the dedication to voluntarism makes it possible for the Boy Scouts to offer a quality program for the young men of the community.
Dawson held a bachelor's degree in business administration from New York University and earned a law degree from Howard University in 1982. Dawson was born and raised in the area of St. Thomas known as Down Street (Lower Main Street and Kronprindsens Gade,) graduated from Charlotte Amalie High School and served two tours of duty in the United States Air Force.
He published the book, "Down Street, Saint Thomas and Beyond: A Dynamic Neighborhood And Its Adjacent Communities." The book is a look at the social, economic and cultural aspects of a cluster of people on St. Thomas and looks ahead at how it shaped these people into who they are today.