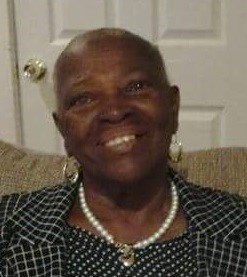 Erma Viola Peter of Estate Concordia died on Dec. 22 at Gov. Juan F. Luis Hospital. She was 76 years old.
She is survived by her daughters: Youlanda Lee-Clendenen, Pearlette Leblanc and Irone Merrick; son, Germain Steele; stepson, William Marcellus; adopted daughter, Joycelyn Lionel; son-in-law, Dwayne Howell; sister, Yvonne James; brothers: Clyde Lee, Ezekiel Gilbert and Herbert Lee; and grandchildren as well as great-grandchildren: Beryl Pedro, Asheem Lee Indira Merrick, Jara Lee, Akeem Taylor, Eddison Peters Jr, Shawn Mason, Craig Wells, Nygell Sebastian, Jahlaya Pedro, Shalaya Thomas, Johnya Baptiste, Jahdony Pedro, Shadony Lopez, Robert Williams, Antonia Williams and Nickolas Lee.
She is also survived by nieces and nephews: Isaac George, Amanda Philbert, Carmen James, Celesita Lee, Ayoka Francois, Kristen Lee, Shawn James, Andera John, Andy James and Ansel James; great nieces and nephews: Kur-tavia Lee, Imariz, Ayarah and Ariah Lee, Akoya Francois, Armanni Gilbert and Dominique Flemming; godchildren: Muriel Herbert-Simmonds, Lashawn Cochrane and Junior Gerard; close friends and family: Mother Lawrence, Ms. Thomas, Michelle Murray, Osize and family, Pamcita and family, Pastor Grey, Annmarie Francois, Inches, Carmen and family, Cyril and family, Mingo and family, Herbert and Samuel family, and Jose and family.
Other survivors include more close friends and family: the Frederiksted Assembly Church of God, the Quashies, the Polydores, the Andrews family, the Williamses of Tortola, the Henrys, the Christians, Clifferna and family, Buttah and family, Dexter and Martha Albert, the Peters, the Edwards, the Heywoods, the Simmondses, the Heyligers, the Seatons, the Bazils, the Servilles, The New Testament Church of God family, The Concordia and Williams Delight families, The Whim Gardens family, The V.I.H.A family, other families and friends on Tortola, the U.S. Mainland and St. Vincent; as well as other friends and family too numerous to mention.
A viewing will take place at 9 a.m. followed by a funeral service at 10 a.m. on Friday, Jan. 13, at The New Testament Church of God. Interment will be at Kingshill Cemetery.