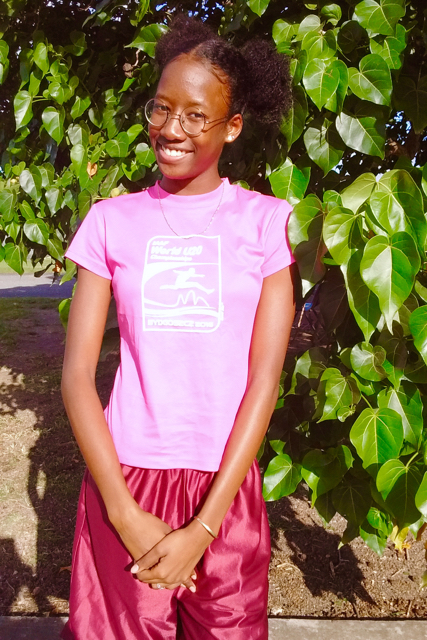 Mikaela Smith started early, going from toddling to running races by the age of two and beating five-year-olds. Now at the age of 15, the St. Croix Educational Complex junior has her sights set on running the 800 meter in the Summer Olympic Games in Tokyo in 2020.
The tall, slender girl was bursting with energy during a recent Source interview. She bounced her legs up and down constantly while seated under the shade of a tree near the Complex track.
Smith said she has a passion and love for running that started with her following in the footsteps of her family.
"I really enjoy running, Smith said. "It's my passion."
Her parents, Mireille Smith and Keith Smith, met at the Pan American games in 1987 in Suriname. Mireille holds Central American and Caribbean championship titles and records in running. Keith represented the U.S. Virgin Islands in the 1992 Olympics as a sprinter. Mikaela said her parents are her coaches, influencing, encouraging and supporting her every step of the way. Her older brother and younger sister are seriously runners as well.
Smith raced in elementary school at Sunny Isle Baptist School then Good Shepherd and Ricardo Richards Elementary School. She does so well academically that she skipped the eighth grade and went on to Complex and enrolled as a freshman.
Smith is a member of the St. Croix Track Club, the Mustangs, and the Complex track team.
Training is one thing Smith takes very seriously, working out every day. She starts early in the morning running or using a treadmill. The family often runs together from their home in the rain forest to Frederiksted. She works out with the track team after school for around two hours, in the school's weight room and running. She explained runners have to use and strengthen the muscles in their arms and back to have the right pumping technique and to prevent injuries.
She also said there is a lot of technique and strategy necessary to be a successful sprinter.
"You have to have tactical strategy to get from point A to B and not move around and waste time," Smith said. "You have to be efficient. And be relaxed mentally and physically."
She enjoys sprinting and doing relay races and hurdling with her team.
"I love my team," Smith said. "If I'm down they bring me up and encourage me. They're like the backbone and influence me."
Angelita Cruz-Tuitt, Stuart Miller and Lloyd Joseph have coached Smith, along with her parents.
One of the only challenges Smith said she and her team members have is the lack of proper training facilities on St. Croix. The track at Complex was overgrown with Guinea grass and is being repaired.
Smith said her greatest achievement so far was placing seventh at the CARIFTA – Caribbean Free Trade Association – games on Grenada last March.
She said she loves to travel and has been to Puerto Rico running in the Asociacion De Athletismo Juvenil E Infatil. Smith has participated in the Bay Area Track and Field games in Florida, and the Central American and Caribbean and the Caribbean Union of Teachers games. And she has been to Curacao, Trinidad and Anguilla for track meets.
"I want people to look at our island," Smith said. "And respect our island. It feels good when people say the Virgin Islands girl is winning."
She hopes to go to college somewhere in the south on a full scholarship to study computer technology and law.
Smith's faith plays a big part in her life.
"I really focus and ask God to guide me," Smith said adding "All things work together for good for those who love God."