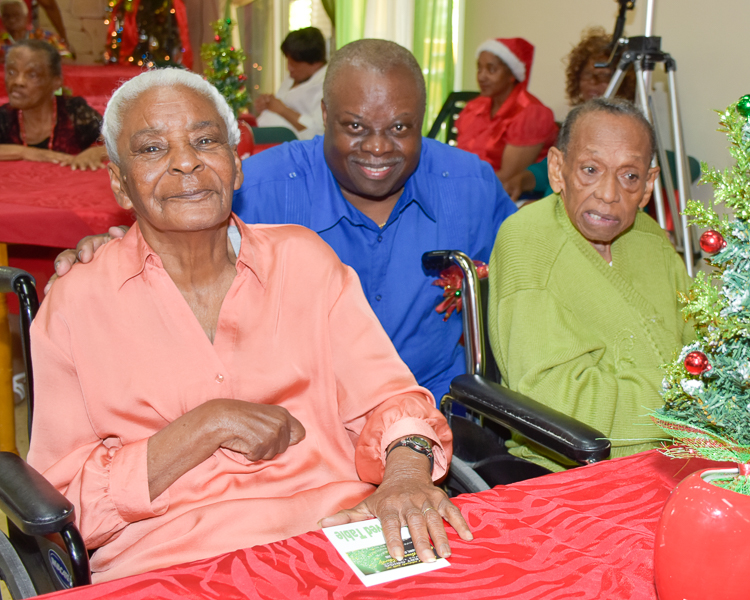 Gov. Kenneth Mapp gave opening remarks and enjoyed festivities at the Herbert Grigg Home for the Aged Christmas Party. Mistress of Ceremony Maria Colon-Clarke introduced the dignitaries and conducted an award ceremony before Pastor Samuel Carrion gave the blessing for the luncheon.
The ceremony was punctuated by a visit from the Three Kings in spectacular costumes, and little singers from the Head Start Program performed. The youngsters, who were between the ages of three to five years old, sang Christmas carols with the crowd.
Presentations, including gifts and supplies for the care of Virgin Islands seniors, were given by the St. Croix Lion's Club and Jewel Brathwaite of the Class of 1970. Musical selections were played by Stanley and the Ten Sleepless Knights and Nikki Brooks, and there was live DJ music on the patio.
Mapp indicated in his comments that he has approved the purchase of buses that would be outfitted with the proper height steps for easy access and doors on the left side to provide for safe boarding.
"It is always a pleasure to spend time with this most precious group in the territory — our seniors," said the governor. Ms. Rupertine Gardier, the oldest resident at the home, is 106 years of age, and she laughed as he presented her with flowers.