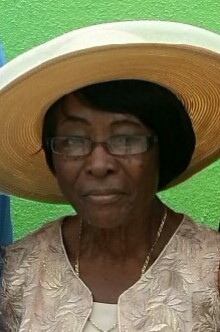 Orma Christabel Quashie died on Dec. 12.
She was preceded in death by her spouse, Bortie Quashie; mother, Maude Hamilton-Williams; father, Charles Culzac; sisters: Valcina Culzac, Nita Culzac and Alene Williams; and brothers: Matthew Charles, Ifil Williams, Caleb Williams and Gladel Williams.
She is survived by her daughters: Pamesta Cordice, Shirley Williams, Valcina Quashie-Peters and Corinne Quashie-Emmanuel; sons: Winston, Bernard, Glaston, Phillip, Victor and Garfield Quashie; adopted son, Adolph Massiah; sisters: Viola Charles, Durel Williams, Gesta Williams, Velma Williams, Wenda Williams, Irene Williams, Ercel Culzac, Myail Culzac, Haraldine Culzac, Anna Culzac, Daci Culzac and Ceceel Culzac; brothers: Corwin Culzac, Kalvin Culzac and Gabriel Williams; daughters-in-law: Stacey, Hyacinth, Ernestine, Soyoni and Merab Quashie, Gloria Scatliffe and Joycelyn Lionel; and sons-in-law: Marcus Cordice, Byron Williams, Geron Peters and Martin Emmanuel.
She is also survived by granddaughters: Monet Charles, Sofia Griffith, Sharneiqua Quashie, Mishka Cordice, Sheniqua Cordice, Ramica Quashie, Schanise Quashie, Taylor Quashie, Takisha Quashie, Amanda Quashie, Shakima Scott, Sharmonica Quashie, Zuriel Quashie, Symone Quashie, Khadijah Quashie, Liz Quashie, Marlene Quashie, Katuria Quashie Michelle Trimmingham, Tasha Quashie, Aliena Quashie and Maylene Neptune; and grandsons: Jaheem Joseph, Jackel Peters, Desborne Cordice, Raheem Williams, Tyler Quashie, Matthew Quashi, Allison Quashie, Kevin Quashie, Chris Quashie, Sean Quashie, Bryon Quashie, Glaston Quashie Jr., Glaston Quashie II, Shalik-Omar Quashie, Eliakim Quashie, Victor K. Quashie, Victor V. Quashie, Elliah Quashie, Kevin Quashie II, Victor Quashie II and Michael Quashie.
Other survivors include great-granddaughters: Kristina Cordice, Destiny Williams, Aumilia Jimdar, Auliyah Jimdar, Ayanna Quashie, Alisha Quashie and Tianna Anthony; great-grandsons: Desborne Cordice Jr., Desborne Cordice III, Ayinde Charles, Aiden Charles, Justin Griffith, Aulijah Jimdar Ayandre Quashie, Jashawn James, Tynare Joseph, Jamal McFarlane Jr. and Kelsick Jones Jr.; nieces: Rosalie, Antonia, Vendora, Cecile, Miown, Marie and Theresa Massiah; and nephews: Anthony, Allan, Carlos, Ulan, Adolph, Cleaphus and Christopher Massiah, Carlos Massiah-Maloney and Alson Thomas.
More survivors include caretakers: Agetha, Kimberly, Julien, Jean Henry and Continuum Care; special friends: Pastor Kettly Jefferson and the members of the Southside United Pentecostal Church, Pastor Malcolm Harris and family, Frederiksted Assembly of God members, the Massiah family, Sis Henry, Hariette Tull and family, Ella and Southie, Baby, Ma and James Charles, Alson Thomas and Ms. Gerard and family; as well as other relatives and friends too numerous to mention.
The viewing will take place at 9 a.m. followed by a funeral service at 10 a.m. on Tuesday, Dec. 27, at Southside United Pentecostal Church, Frederiksted. Interment will be at Kingshill Cemetery.