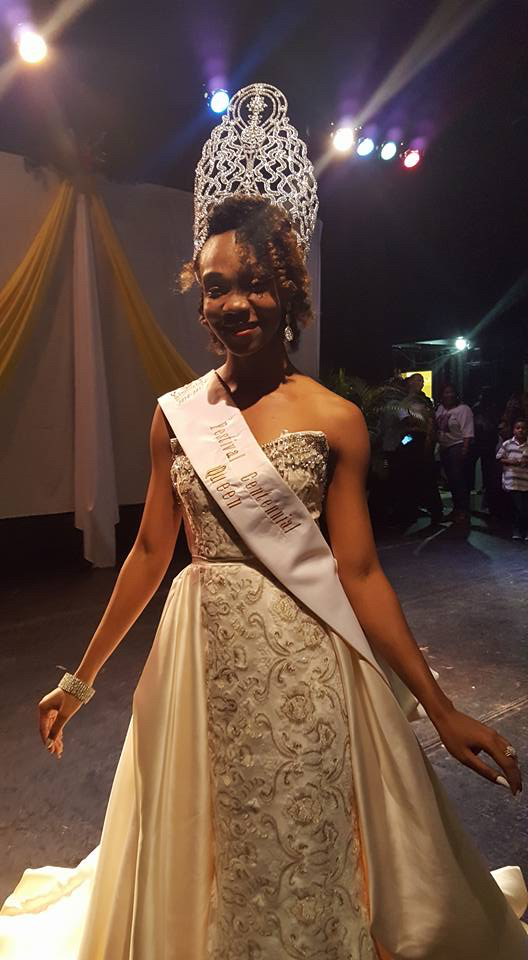 The Crucian Christmas Festival crowned 24-year-old Elle Nielsen as Miss St. Croix Centennial Queen during its royalty show Sunday at the Island Center for the Performing Arts.
Also crowned Sunday evening were 11-year-old C'Jay A Prevost as Centennial Prince and 5-year-old Melodi De La Cruz as Centennial Duchess. Raynia Mason and Jaynae Davis, both 10-years-old, competed for the title of Centennial Princess with Davis capturing the crown.
The show featured the contestants, local dance companies and Grammy winning R&B artist Mario. Unlike previous shows, this years' edition was more about coronations than competitions, as only one title had multiple contenders.
Nielsen was the only contestant to make a bid for the Centennial Queen title. She has a long resume of pageant titles under her belt, including competing in Tortola, St. Kitts and Jacksonville, Florida.
Nielsen is a member of DanceWorks New York City, the city's largest performance-based dance organization for advanced and technically trained dancers.
She said her vision for the future is to establish her business, "Movement 340," which will be the first performing arts facility in the V.I.
"We will have everything", she said, including "performing arts, singing and dancing."
Pageant coordinator, Jamal Drummond said other contestants had seemed ready to compete, but he thought they may have been intimidated by Nielsen's credentials.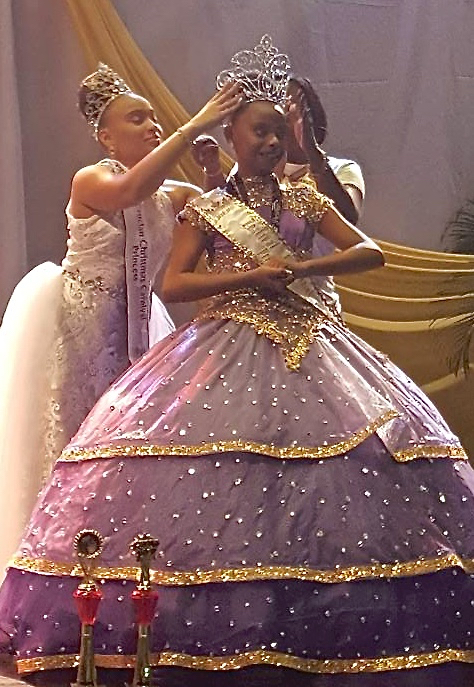 The Prince and Princess contestants and the Duchess demonstrated their speaking and modeling skills, making their introductory speeches and modeling their "High Fashion Culture Couture wear" and evening wear. The young ladies vying for the Princess title, the only contested category of the evening, also took part in talent and question and answer segments.
The Princess contestants also vied in a historical presentation section, in which each envisioned going back in time to the territory. Mason, depicted a young girl was transported to 1983 and the first Heritage Dancers Ball. There she met legendary cultural historian Bradley Christian who told her about Quadrille dancing, cooking cultural foods and creating cultural outfits. Davis portrayed a young student who falls asleep while trying to find a historical figure to write about for a homework assignment. She wakes up in a field cutting cane. After expressing her dissatisfaction about the working conditions that still existed even though slavery was abolished she declared that as Queen Mary she would lead the Fire Burn of 1848. Of course, when she woke from the dream, Queen Mary was the subject of her essay.
After the judges tally, Mason won Miss Popularity, Miss Congeniality Miss Photogenic, Miss Intellect, and Best High Fashion Cultural Wear. Davis won Best Evening Wear and Best Historical Presentation and the title of Crucian Christmas Centennial Princess 2016-2017.
All participants won prizes and trophies, including flat screen TVs, bicycles, virtual reality goggles, jewelry, laptops and Chromebooks which were given out immediately after the show.
The newly crowned royalty will preside over the opening of the Centennial village, the adult and children's parade and they will be present at the Food, Arts and Crafts Fair. Throughout the year, they will represent St. Croix locally and off island.