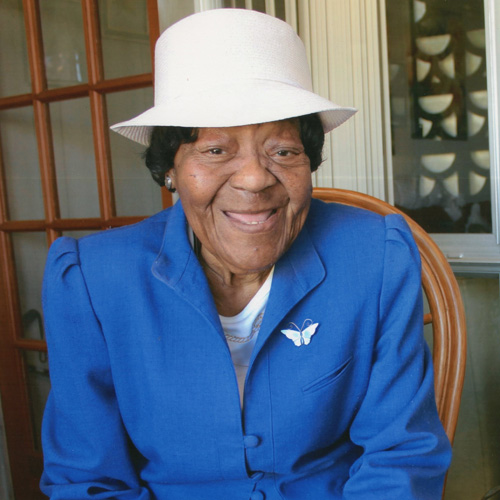 Agnes Ross Belvin of Seal Beach, Calif., died at home Nov. 30. She was 91 years old.
Agnes Agatha Marie Joseph was born April 9, 1925, on St. Croix, U.S. Virgin Islands to Rosalind Vanita Joseph and Cyril Ivan Joseph. She was the fourth child in her family of three sisters and one brother. Her mother died when she was five years old, and Agnes and her sisters were raised by their Aunt Katherine.
After graduating from Christiansted High School, she became a teacher. In 1947, she moved to San Francisco, Calif., to be with family. She became a housekeeper and nanny for two families for more than 20 years. Later she became an LVN and worked on the surgical and medical wards of various hospitals. After she retired, she performed private duty geriatric care to home-bound patients and served as a personal companion. She lived and worked in the San Francisco Bay area for 40 years and for a few years worked as a licensed psychiatric nurse in Pomona, Calif.
After her husband and sister died, Agnes moved to Long Beach, Calif., where she had many relatives. Family was always important to Agnes. She kept in touch with as many of them around the world as possible. She lived at Leisure World in Seal Beach from 2009. She was an active member of the Church of Jesus Christ of Latter-day Saints for many years. At times, she taught Sunday school, sang in the choir and worked on the church newspaper. She supported numerous charitable organizations and was very interested in helping others.
She was a fan of Perry Mason — not for his ability to fight crime but his dashing good looks, and she was a fan of the Los Angeles Dodgers from the time they moved to the west coast. For a period of time, she raised finches and cockatiels. She enjoyed cooking, crocheting, knitting and gardening. She loved to work in her garden until the last year of her life.
She was preceded in death by her husband, Robert Belvin; sisters: Ursula Brady, Theolinda Hewitt and Eileen Stokes; brother, Vincent Lang; and her parents: Rosalind Joseph and Cyril Joseph. She is survived by many nieces and nephews.
Her memorial service was held at the Church of Jesus Christ of Latter-day Saints, 6500 E. Atherton Street, Long Beach, on Dec. 8. Internment was at Woodlawn Memorial Park in Colma, Calif.