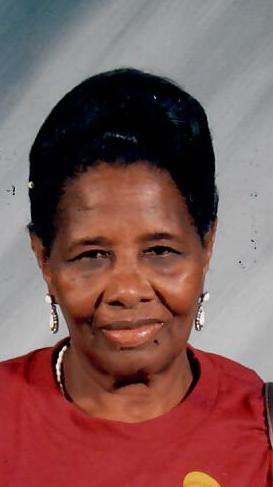 Therese Larichere died on Nov. 22.
She was preceded in death by her mother, Hetti Andess; father, Augustine Etienne; sons: Francis and Samuel Larichere; and sister, Rose Etienne.
She is survived by her daughters: Rosalina Emil, Mary Caesar, Roselyn Theodore and Bernadette Monell; sons: Cherence Monell, Henry Monell, William Monell, Davidson Monell, Marcel Larichere, Anthony Larichere and Pierre Larichere; sister, Florina Etienne; brothers: Randolph Etienne and Dickson Etienne; sons-in-law: Mike Theodore, Roal Caesar and Peter Emil; and sister-in-law, Anges Etienne.
She is also survived by grandchildren: Prisca, John, T-boy, Shashel, Gelet and Catalina Raymond, Susan and Reynold Evans, Chris, Sheldon, Shasha, Crystal, Cherence Jr., Bianca and Princess Monell, Tatia Monell Hewitt, Linus Monell, Kwame Marshall, Donna, Roal and Denise Caesar, Anthony, Russell and Daniel Theodore, Rashord, Yves, Josha, Tandiya, Isiah, Ajaime, Ajayie, Naisha and Ajoya Monell, Tanika, Teneak, Clitus, Anthonia, Anthfia and Tonia Larichere.
Other survivors include great-grandchildren: Tatyana and Tiana Hewitt, Tre Pike, Imani and Kyrie Caesar, Tasheim, Jourdan, Joshua, Aniya, Jaylynn, Johsenniah, Jahsiah and Queen Theodore; nieces: Clara, Petra and Marion Etienne; nephews: Francis, Rassy, Elvis Paul, Dilyn, Luly, Peter, Bauno and Etienne; special friends: Deacon Norbert and Clara Xavier, Florence Jules and Antoinette; and other relatives and friends too numerous to mention.
Special thanks to Continuum Care, Monsignor Michael Kosak, Father Simon, Father Lewis, Deacon Norbert and Clara Xavier, Fountain of Life, many prayer groups who came to the house to pray for her, those who came and visited and shared comforting words.
A viewing will be held from 3-5 p.m., Monday, Dec. 12, at Divine Funeral Services Chapel.
A second viewing will be held at 9 a.m. followed by a funeral service at 10 a.m. on Tuesday, Dec. 13, at St. Ann's Catholic Church, Barren Spot. Interment will be at Kingshill Cemetery.