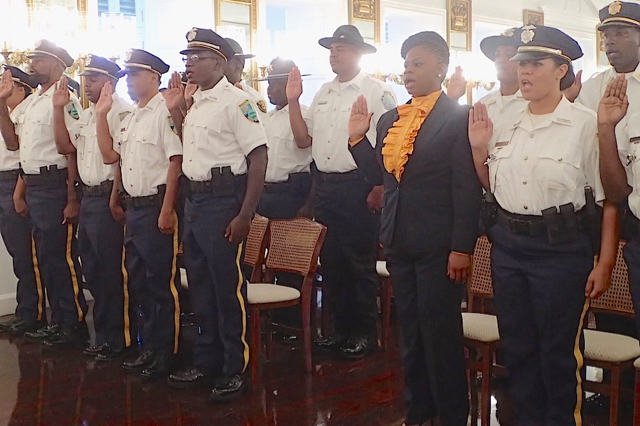 The latest class from the Virgin Islands Police Academy – 20 men and women strong – graduated Monday and will begin their careers as officers in the VIPD or as peace officers with several V.I. government agencies and the University of the Virgin Islands.
The graduates entered the ballroom at Government House dramatically – singing loudly and marching in cadence. They will part ways soon, with 11 entering the police force and the others serving as peace officers with the V.I. Port Authority, the Superior Court, Planning and Natural Resources, Licensing and Consumer Affairs, the Legislature, the Governor's Office and UVI.
Two of Monday's graduates were presented official certificates by their fathers, who were or are now members of the VIPD. Former Deputy Chief Claude Fredericks, Jr. saluted his son, Claude Fredericks III, and St. Croix Police Chief Winsbut McFarlande welcomed his son, Akil McFarlande, into the ranks and hung the medal of completion around his neck.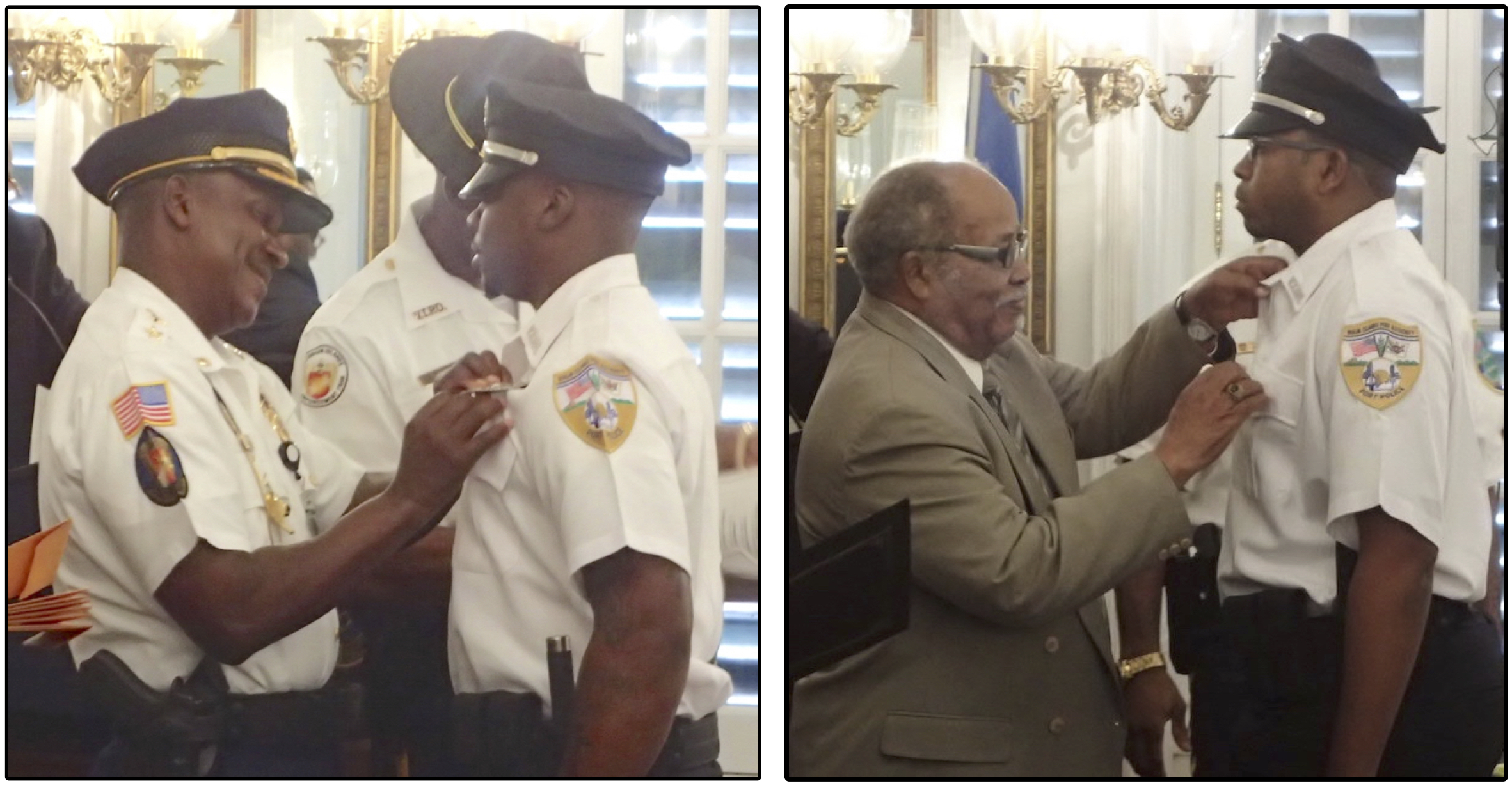 Police Commissioner Delroy Richards congratulated the new officers for completing eight months of "arduous" training. He told to learn to listen but not judge and not to lose sight of who they are. He recommended not "isolating your burdens," to get professional help when needed, and said the stigma against seeking such help comes from those who lack the same courage as the police officers.
"You are heroes, especially when you do things few would understand or accomplish themselves," Richards concluded.
Gov. Kenneth Mapp told the graduates they would meet the "best in the community and the worst of human specimens" and would learn to appreciate the good people. He promised support in providing pay, modernizing the police department and providing outside investigative and homicide training.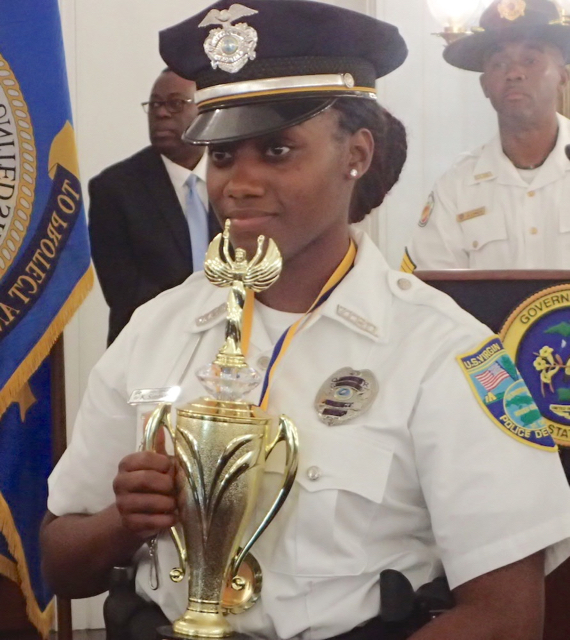 "Success is not the number of cases solved but the amount of crime we can prevent," he added.
The new officers entering the VIPD are: Neissa Alenjandro, Javon Benjamin, Delvin Chapman, Najeem Daniel, Gerald Felix, Rashid Iles, Shanavia Martin, Ivalee Perez, Adisha Rogers, Kenesha Simmonds, Millissa Vigilant.
The V.I. Port Authority peace officers will be Claude Fredericks, III and Akil McFarlande.
The new Superior Court Marshals are Brian Browne and Clifton Smith.
The remaining peace officers will be assigned as follows: Rene Torrens at DPNR, Okang Dover at the Legislature, Vince Hendrickson at the Governor's Office, Kareem Cazaubon at Licensing and Consumer Affairs and Hussein Abdiruhman at UVI.
Members of the training academy staff presented awards for the academics to Adisha Rogers, physical fitness to Kenesha Simmonds, firearms proficiency to Najeem Daniel, and medical first response to Rashide Iles. Kenesha Simmonds was given the commissioner's award.