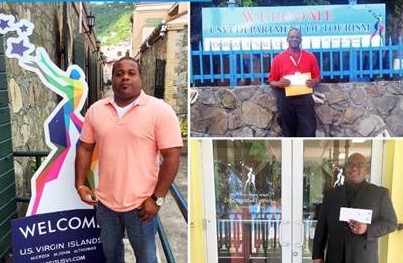 Andre Toussaint of St. Croix, Elvis Sprauve of St. John and Nico VanHolten of St. Thomas are the first round of winners in the V.I. Department of Tourism's (VIDOT) inaugural "Taxi-Text-To-Win" incentive promotion, which is designed to enhance the U.S.V.I. Taxi Ambassadors' welcome experience for visitors.
This innovative campaign, which launched on Oct. 1, is the newest component of DOT's customer service initiative that rewards taxi drivers who provide first-class service and incentivizes visitors to share positive feedback about their experience while on island.
Visitors disembarking at one of the land or seaports in the U.S. Virgin Islands who receive excellent service from a taxi driver are encouraged to text "VINice" to 63211 and give a brief description about their welcome experience, along with their driver's name and license plate number to win a return trip to the USVI.
Each month, one Taxi Ambassador from each of the three islands will be selected based upon the most positive texts, and each will receive a $200 gas certificate to use at participating gas stations throughout the territory.
"The Taxi Text-To-Win program offers both Taxi Ambassadors and visitors an opportunity to be rewarded for providing excellent customer service and sharing positive feedback about their experience in the territory," said Commissioner of Tourism Beverly Nicholson Doty. "This initiative encourages visitor engagement with taxi drivers, while allowing the department to capture important data on the guest experience."
Nicholson-Doty said, "There are many unsung heroes in our hospitality industry, and there is a need to truly highlight the ladies and gentlemen on the frontline who welcome visitors to our shores each day."
For more information about the U.S. Virgin Islands, go to VisitUSVI.com, follow us on Twitter (@USVITourism) and become a fan on Facebook (www.facebook.com/VisitUSVI).