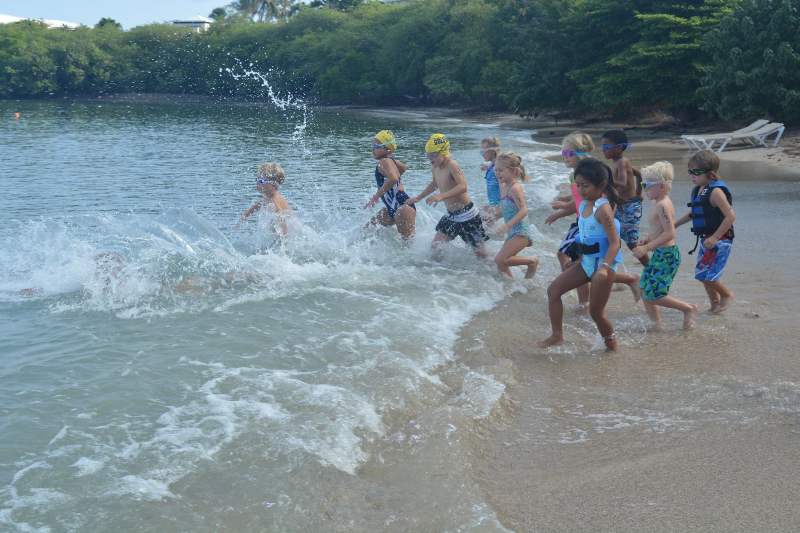 The second out of six events in the Junior Tri VI race series took place on Sunday, Nov. 20, at Chenay Bay. In spite of the drizzles, 53 kids came out to participate in the Succotash Splash 'n Drumstick Dash, which was hosted by the Virgin Islands Triathlon Federation (VITF). While waiting their turn to race, most kids visited the face painting booth, where Good Hope Christian Day School (GHCDS) Interact volunteers painted sporty and holiday themes on their happy faces.
Kids, ages 5-6, were the first to take off from the shoreline of the Chenay Bay Resort. After a short point-to-point 25-meter swim, the kids ran .25 miles through the grounds of the resort and back. Teague Gleason, Isaiah Wilson and Beckett Archambault took the top places in the field, respectively. Diella Maynard finished fourth overall and was the first female. Ainsley Fauquher was second and first-timer Mica Astropabio was third.
Next, 15 kids lined up in the 7-8 category. They completed a 50-meter swim, followed by a .25-mile run. Joseph Freeman of GHCDS led the race from the start with a time of 1:15 min. for the swim. He finished the race just over 30 seconds ahead of second place Connor Bass. Rex Andrews was third. First-timer Helen Collins led the female race from the start too, posting the fastest swim and run splits of the group. Annabelle Croney was second and Sabine Guerra was third.
The largest field of the race was the 9-11 category. The group has many fierce competitors, so the outcome is never certain until they cross the line. Nine-year-old Kaeden Gleason was victorious Sunday morning, beating out Mason Lambert by just 4 seconds. Tyler Jones was third overall in the 100-meter swim and .5-mile run. Lydia Wilson plowed through the swim and held her own on the run to secure her first-place position for the girls; Kirra Lambert was second; Maria Wilson was third.
The smallest group was the last to toe the line. The middle schoolers, ages 12-13, covered a course made up of a 200-meter swim and a 1-mile run. Mikey Dizon-Bumann, who just qualified to swim with the National Tea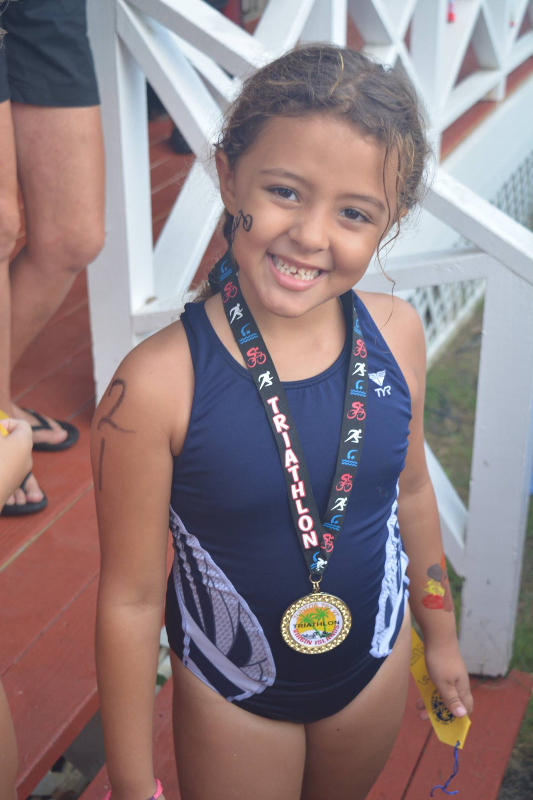 m in the CARIFTA Championships in the spring, lead the 200-meter swim, just ahead of St. Croix Dolphins swimmer Erin Andrews. Mikey held off second place finisher Brice Richards to win in 10:04; Colton Fauquher w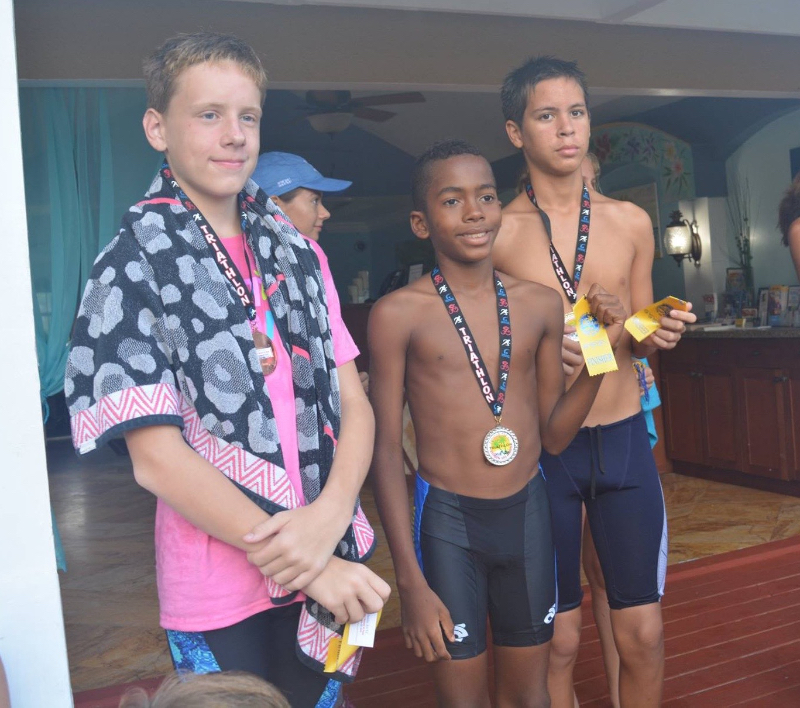 as third. Erin was the sole female competitor.
The next event in the Junior Tri VI series will be the Rotary Mid-Isle Duathlon on Feb. 5 in Gallows Bay and is open for kids ages 5 to 15.
For more information, call 513-2707.