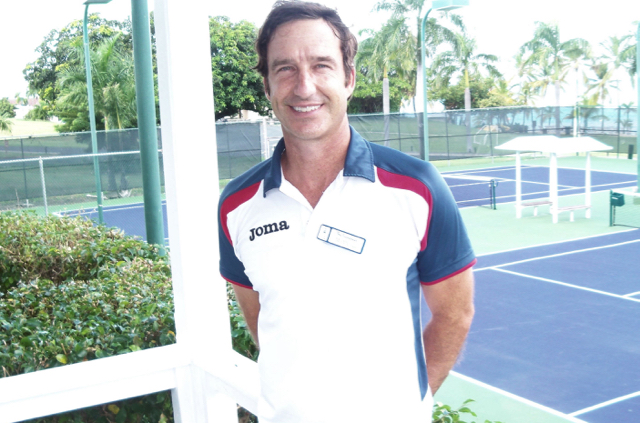 New faces and a new look are coming to the tennis program at the Buccaneer.
"We want to redo how we think about tennis at the Buccaneer," said Elizabeth Armstrong, general manager and granddaughter of the resort's first owners.
"We have redone the courts and are redoing the tennis shop."
She also has new staff and tennis management company. Gayle Vanasse is managing the tennis shop. She had been working at the shop on as-needed basis until Nov. 1, when the fulltime position became available. She is well-known in the Christiansted community for her hard work organizing the Concerts at the Fort series. Her husband Stan, who will work part-time at the shop, is known through the community as a pretty good tennis player.
Neal Cassidy is the new director of tennis. He has more than 15 years' experience providing tennis programs and coaching and started at the Buccaneer at the beginning of this month. He is employed by Peter Burwash International, a tennis management company that specializes in tennis instruction, program development, marketing, operations and daily tennis activities for five-star resorts, hotels and tennis clubs worldwide. The company has been managing the tennis program at Caneel Bay Resort on St. John for several years.
Cassidy said his intention is to "liven up" the tennis program at the Buccaneer so guests and locals can get something out of it. With his friendly central Virginia twang and easy going style of giving lessons, he appears capable of this. He quickly points out a student's strong points while giving a lesson, but he does not hesitate to tell them what they are doing wrong either.
He told the Source, "We have eight great courts. This is a solid tennis place."
He started at the Peter Burwash International in September. He said at first here he was mostly observing and getting input from people who use the facility on what they would like to see. Now he is working on expanding youth programs.
Friday he will a kick off a Doubles Theme Night. Some ideas for themes that are thrashing about in his head – Casino Night, Cinderella Night, and Doubles and Bubbles.
Cassidy is not a stranger to island life. Recently he provided tennis instruction and activities at the historic Siasconset Casino Association on Nantucket Island. He also lived on Jamaica for three years.
He pointed out that there will benefits to the Buccaneer's new association with Peter Burwash International.
"There are many tennis enthusiasts who won't stay at a resort unless it is a PBI resort," he said.
He added that communication and support are good between tennis pros at the various PBI resorts. As an example he said that he recently gave lessons to a couple of students who were going now to Caneel Bay, and he planned to pass on some notes on his instructions to those students to the pro on St. John.
PBI directs tennis programs for 55 properties in the United States, Mexico, Hawaii, Caribbean, Asia, the Middle East and Europe.
The Buccaneer resurfaced its eight hard courts this summer. Two courts are lit for night play. It has hosted several annual tournaments sponsored by local non-profits.
"My intention is to keep everything that everyone enjoys and likes here, and then expand on that," Cassidy said.
The yearly membership fees for local members will not be raised, he added.
The tennis shop renovation is expected to be completed within two weeks, Vanasse said.
"As manager of the Buccaneer Hotel Tennis Club I have a total commitment to high-value customer service, creating long term success through our programs with our hotel guests, valued members and non-members alike," she said.