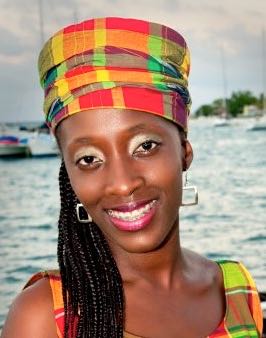 Jewels of the Virgin Isles is a monthly feature series profiling Virgin Islanders in the diaspora who are excelling in their respective fields and/or positively representing the USVI abroad.
She is ambitious, driven and passionate about being the change she desires to see in this world. For Nykole Tyson, the phrase "I'm making it happen," isn't just the name of her online television show; it is a way of life.
Born on St. Croix, Tyson is an alumna of the Arthur Richards Junior High School and the St. Croix Educational Complex, where she participated in the magnet program for math and science. She left St. Croix after high school to attend William McDaniel College, a private liberal arts school in Maryland.
Initially, Tyson said, she was encouraged to study a more lucrative field and was on track to pursue a career in computer science; however, while in high school, she heard something that would resonate with her and become her clarion call – "If you follow your passion you can make money."
Committed to identifying what that passion was, Tyson entered college as an undecided major. "My father was definitely not happy when he realized that my classes did not include the curriculum he encouraged me to follow," Tyson says. "All I could say was that I had been meaning to tell him that I created a program that would allow me to try different subjects."
Ultimately, Tyson would earn her bachelor's degree in mass communications with minors in business and journalism. Tyson secured internships at Black Entertainment Television and was introduced to various aspects of television production and broadcasting during that time. These were skills she would later use in her career.
"I was the only student to intern in two departments and I learned how to edit while producing music video show for our college," Tyson says. After declaring her major in communications the spring of her junior year, Tyson returned to St. Croix for a summer internship at the local CBS affiliate TV-2. During that time, she also produced her first music video as well as wedding videos.
Tyson says she considered a career in film and spent three months in England following her graduation from college, continuing to hone her video production skills and then returned to Maryland to work on contract with the Baltimore mayor's cable access channel. Despite this wealth of experience in her field of choice, Tyson felt pressured to secure a "real job with real benefits" and worked for several years outside of her passion in positions that utilized her business degree.
It would all come together years later as she felt the pull to return to her communications background and began tapping into the three keys to her success.
"I make it a priority to keep positive, like-minded people around me in every area of my life and to have a 'never-quit' mindset. As a result, I have benefited from listening to advice from others and applying what is relevant to me," Tyson states.
After a decade of living stateside, she had a revelation during a short trip to St. Croix. "I was home for two weeks in the winter and I fell in love with home for the first time. [From] the community feel, to greetings of 'good morning' and 'good afternoon.' I remember sitting on Dorsch Beach in Frederiksted and realizing that until that moment I had never realized how beautiful my home, St. Croix, was."
After that visit, the hustle of life on the mainland lost its luster and Tyson made the decision to trade in her fast-paced life on the go for a better quality of life. Within eight months of that trip, she quit her high-paying job, gave up the company car and expense account, and moved back to St. Croix for a job paying $30,000 less, with the thought that she could always move back if things didn't work out.
"Everyone thought I was crazy. My Jamaican friend told me that for her peers, going back home equated to failure, but my attitude was that I could make it wherever I was," Tyson says.
Since her return to St. Croix, Tyson has immersed herself in the community. She has mentored students, worked for a St. Croix senator, and is currently the director of public relations for the V.I. Department of Health, in conjunction with being the producer of her own online video series, I'm Making It Happen.
The weekly program, which turned one this year, mostly features Virgin Islanders who are striving to succeed in their given areas of expertise and serves as a source of pride and inspiration for others.
"After finally launching my first interview six years ago on Facebook with little fanfare, I started receiving requests from people who had somehow come across the show online," Tyson says.
Tyson says she intends to motivate people through her work; however, she expresses concern about the lack of community and pride that once existed during her youth. She said she would like to see more life skills and economic acumen incorporated into the educational curriculum to help students handle real life situations.
Despite the challenges that her home-island of St. Croix may face specifically, Tyson still has high hopes for the Virgin Islands and its future. "My passion is here and my goal is to be a change agent. Sometimes you have to be that droplet of water that creates a ripple in shifting mindsets."
Nugget for V.I. Youth: "Be an independent thinker – know what's right and wrong for yourself. Be respectful, because opportunities open for you based on how you treat people. Lastly, if no one has told you, YOU are important."
Little Known/Fun Fact(s): "I've learned that I like to watch chickens interact. They have a hierarchy that to me represents human beings. For example, I saw a rooster charging into a mirror as if ready to fight, not realizing it was fighting its own reflection. This, to me, is symbolic of our young, Virgin Island males and the way they treat each other."
__
Loán Sewer is a marketing and tourism branding consultant and proud Virgin Islander who resides in Charlotte, North Carolina. Follow her on Twitter @LoAnSewer or e-mail her at info@gobiconsulting.com.