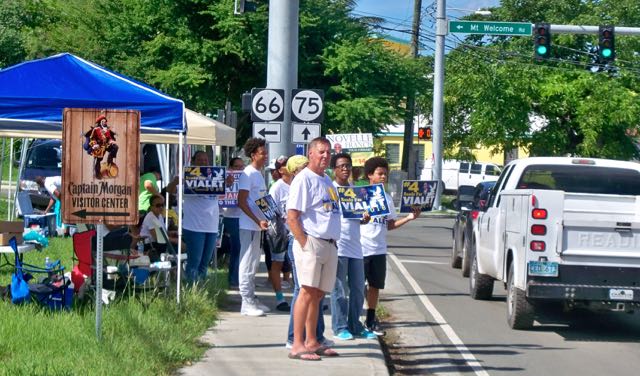 Virgin Islanders are put off by the antics in the U.S. presidential election, but that has not kept them from being excited over the local campaigns.
Residents in line Tuesday to vote at the Canegata Park polling station, when asked about the national campaign, said things like "unbelievable" and "good for TV but nothing else" and "boy, will I be glad when that is over."
But that did not seem to taint enthusiasm about the local elections. Terrell Alexandre, administrative assistant at the St. Croix Board of Elections, was at Canegata in the morning and said he was seeing "more voters than we expected."
Caroline F. Fawkes, supervisor of elections, said in a radio interview a little after 11 a.m. Tuesday that already 2,000 voters had voted on St. Croix and 1,800 in the St. Thomas/St. John district. She said 18 percent of registered voters cast early ballots, which was above the 15 percent predicted.
Outside the Canegata polling spot – and beyond the 200-feet electioneering limit from a polling spot established by legislation in April – was Duane Edwards, who was advocating a vote for Alicia "Chucky" Hansen. Edwards said it was his first time actively supporting a candidate.
"We are here exercising our right to vote for a change." But Edwards said he was not talking about the change advocated by Donald Trump. Edwards said he had thought a lot about the U.S. election. "Trump is the perfect billionaire villain of a horror show. He brings out so much hate it is terrifying."
The Canegata polling spot is new this year. It replaced polling spots at Pearl B. Larsen Elementary School and the Florence Williams Library.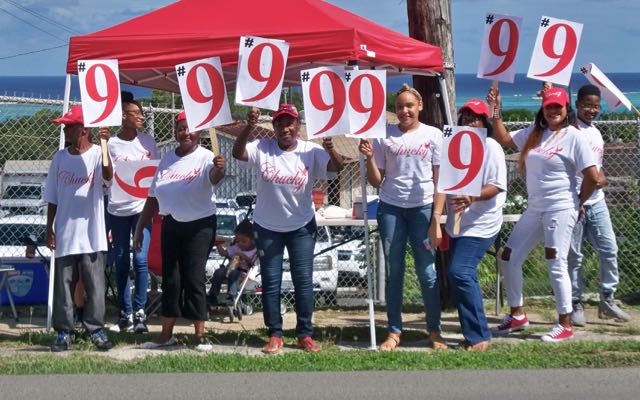 Some residents feared that the new law pushing electioneering further from polling stations would kill the traditional campaigning on Election Day. But just west of the Canegata tennis courts, tents were set up for Neville James and Kurt Vialet supporters as well as Hansen's.
Joann Edney, a James supporter, noted that it was different this election, but added it was not going to stop her showing support for her candidate. On the national election she had two words, "Dump Trump."
The new law did nothing to dim the enthusiasm of candidate supporters over by the Juanita Gardine polling station either. Although they were further away from the entrance than in previous years, they crowded around both sides of it and, in some cases, on both sides of the street.
Glendaly Felix was waving a sign, smiling broadly and looking ready to dance. She said, "We work hard and we play hard." She said she expected even more of her candidate's (Hansen) supporters to show up in the afternoon. She did not express any preference on who should win the national election, saying only, "Whatever happens, I pray there is something good in it."
Election board member Glenn Webster was at the Board of Elections on Tuesday morning. He said he thought things were going pretty well locally. However, he was concerned about how it was going nationally. He said, "The nasty tone, it is not going to go well."