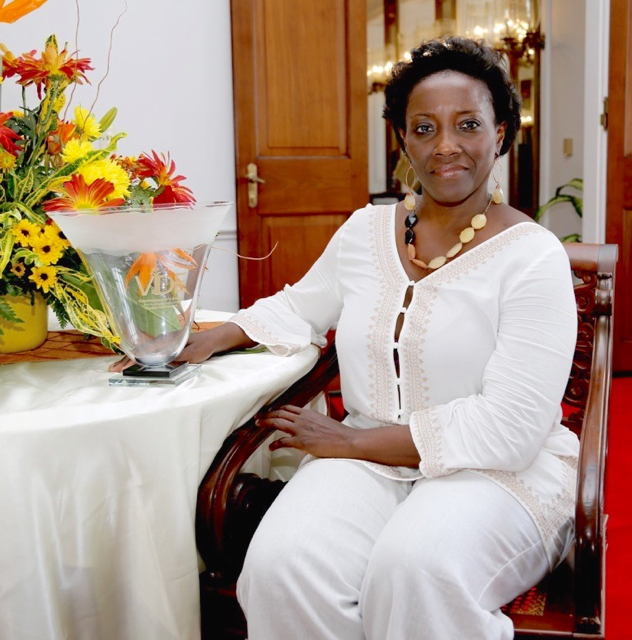 The V.I. Department of Education named St. Croix Central High School English teacher Dinah Browne the district teacher of the year at a ceremony Sunday at Government House.
Education officials recognized Browne for her achievements, along with four finalists: Elizabeth Beck, a business teacher at St. Croix Career and Technical Education Center; Sayeeda Carter, an English teacher at St. Croix Educational Complex; Barbara Daniels, a music teacher at Ricardo Richards Elementary School; and Tysha St. Jules, a 6th grade teacher at Claude O. Markoe Elementary School.
Outstanding educators at all 15 of St. Croix's public schools were also honored.
During her acceptance speech, Browne acknowledged her colleagues for their tireless work.
"I am honored because there are simply so many outstanding, passionate and creative educators out there who challenge, support and inspire their students every day. While I am the one receiving this honor today, I must recognize that there are so many dedicated faculty, staff and administrators who deserve our recognition and acknowledgment for their tireless dedication and boundless energy they invest in our students," Browne said.
"I would also like to take the time to thank our students, because without their openness and enthusiasm and desire, all of our ideas and dreams as educators would be for nothing. I appreciate that they are willing to be a part of this journey," she said, according to a statement from the Education Department.
She said she loves her job.
"I made the choice to be an educator and, in fact, I might even go so far as to say, I always knew I would be a teacher," she said, says her heart was "filled with excitement and exhilaration that I did make the right choice."
Insular Superintendent Colleen Mae Williams offered congratulatory remarks to the honorees.
"We are so excited about the great things you have done at your various schools to promote excellence in education," she said. "As you move through the activities at your various schools, you touch lives and the lives that you touch are the children that are dear to the people of the Virgin Islands. I want to thank you for going above and beyond, in terms of your work on a daily basis in our schools, the committees that you're involved in, and the extra work that you put in to ensure our students get the very best education possible."
Following a selection process, Browne or St. Thomas-St. John District Teacher of the Year Kendra Vicars will be selected to represent the territory as state teacher of the year.