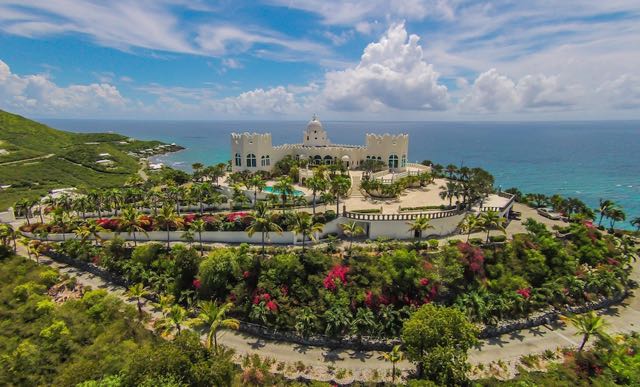 Everyone who has driven on St. Croix's east end has no doubt looked up and seen the eye-catching residence called "The Castle," and asking what it is, has heard some version of the story of a contessa who built it. Well, the iconic property with majestic wrap-around views of the Caribbean, Moorish and oriental architectural influences on 102 tropical acres extending to the sea is up for sale at $15 million.
Bulgarian Contessa Nadia Farber and her husband purchased this prominent mountaintop property overlooking both the north and south coasts of St. Croix.
Farber was enchanted by the 360-degree views and set forth to design and build her fairytale Caribbean castle. Influenced by the Moorish and Oriental architecture of the contessa's homeland and travel destinations, the main residence and gatekeeper's cottage come to nearly 10,000 interior square feet. Farber completed it in 1989 but continued to acquire land and eventually assembled a 102-acre estate, enveloping the private, secluded hilltop with the surrounding rolling hillsides.
The estate once housed the Farleigh Dickinson University's West Indies Marine Lab and so is complete with roads and infrastructure that lead into a large flat plain, partially zoned for a possible commercial venture. The estate sweeps down the mountain all the way to the palm-lined beach, with the former marine lab's pier alongside. Adjacent to the yacht club, its sheltered lagoon is just opposite the spectacular Buck Island National Park.
Contessa Nadia de Navarro-Farber was born to an aristocratic family in Pleven, Bulgaria, and has done philanthropic work on Long Island, in Europe, the Caribbean and South America, receiving Congressional recognition for her work in 1998. She began her career as a musical comedy actress, starring in several black and white films in her native Bulgaria and Hungary before marrying her first husband, a Spanish count who served as a diplomat to the Vatican.
She lived in Monte Carlo for years after his death and moved to New York, where she met her second husband, Sid Farber. The business operated by the contessa and her husband built more than 30,000 homes on Long Island, many for moderate income families. Farber passed away in 2014.
"The estate and grounds radiate with the contessa's passion and appreciation for the natural beauty of St. Croix," said Rick Moeser, executive director, Christie's International Real Estate. "She spent four months of the year in this magical setting. Future possibilities are endless, including a private estate, a bespoke resort in, or a commercial venture. 'The Castle' will continue to enchant."
The Castle is offered for $15 million by John Foster Real Estate, with global marketing provided by Christie's International Real Estate.
To find out more, contact Lisa Bessone, Christie's International Real Estate, at [email protected] or +1 505 603 8039; Tania McNally, Luchford, at [email protected] or +44 (0)20 7631 1000; Israel Kreps, Kreps DeMaria, at [email protected] or +1 305 663 3543.