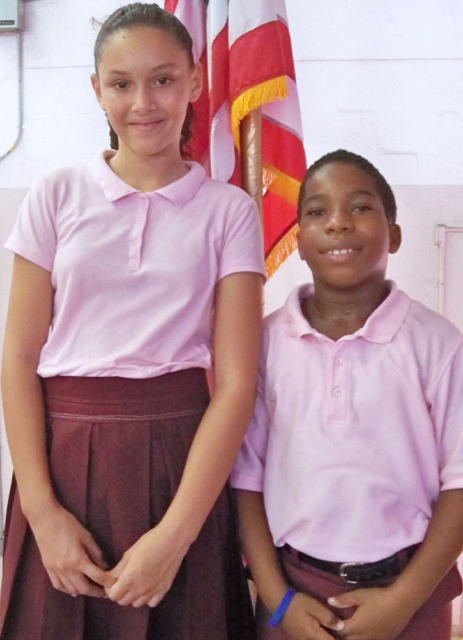 The Rotary Club of St. Croix may be on the right route to reaching and opening young. impressionable minds and hearts by sponsoring the EarlyAct service club at Juanita Gardine Elementary School.
EarlyAct teaches students about caring, respect, empathy, responsibility, tolerance, citizenship, compassion, friendship, and leadership.
Sandra Gerard-Leung, president of Rotary Club of St. Croix, said EarlyAct is a school-wide service club open to all elementary school students. She said in essence they are all members. Two different representatives are selected weekly from each home room to attend meetings. The four officers are required to attend every meeting.
According to the Rotary website the mission and operation of EarlyAct are closely linked to the ideals of Rotary, and provide the foundation and natural succession into Interact, an organization for older students.
Gerard-Leung said the positive response to EarlyAct and excitement among the students is more than the Rotarians expected. They have held just two meetings and the attendance and enthusiasm has been amazing, she said. They held an election of officers, which they didn't have to do, because the school administrators would choose four officers.
She added they are already drawing up a constitution, forming committees, writing by-laws, and planning fundraisers and events. She added the students are learning Robert's Rules of Order, and John Abramson will be explain parliamentary procedure at the next meeting.
"We guide them and they run with it," Gerard-Leung said. "I'm so impressed. They're well organized, exceptional students. We're showing them how to be good leaders and they're interested in that."
The new president, sixth-grader Kevounte Hughes, said he joined because he wants to help improve the school and hopes to be a good, strong leader.
Fifth-grader Jose Torres, the vice president, said he wants to help people.
"I feel good helping people," Torres said. "I want to help stop bullying and fighting."
Secretary Litziana Gomez, who is in sixth grade, said she is interested in being a leader in school.
"I'll be good and honest and be an example to other kids."
And treasurer Na'Shaly Hamilton, fifth grader, said the experiences she gets in EaryAct will benefit her in the future.
Gerard-Leung said during the school year students are required to do a school activity that benefits the school population and an international activity.
The group already has the international activity covered. Students involved in the club helped at a Haiti relief fundraising boot drive that Rotary sponsored this weekend. Some students took part in a Hunger Banquet last Friday for World Hunger Day at the University of the Virgin Islands.
She added the students are getting pen pals from Haiti through Mandy Thody and the Good Samaritan Foundation. Anna Gordon, assistant principal at Juanita Gardine, is the advisor for the group. Rotary Club of St. Croix recently adopted the school helping to fill many of the needs there. Rotarians and other locals will provide lunch time actives and speakers at Juanita Gardine. They will give lessons on chess and sewing, and show students how to bake, cook and preserve local food. There are plans for art projects, music instruction and more. They will show movies once a quarter, give away books and have local authors do readings.
Gerard-Leung said she is so happy and excited the Rotarians adopted Juanita Gardine School. Rotarian Liz Goggins said the children are amazing and everything about EarlyAct and the students is refreshing.