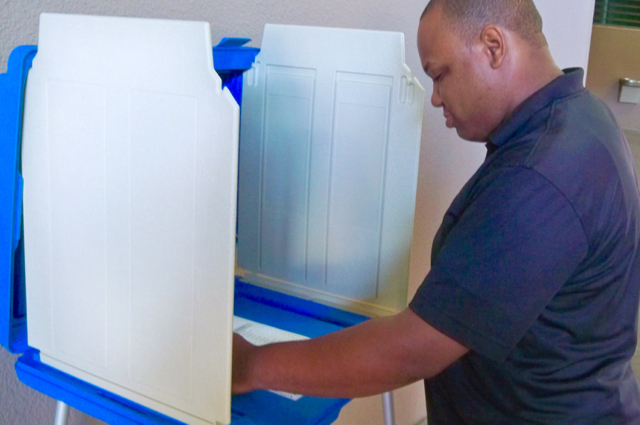 None of the senators from St. Croix who are running for re-election showed up at the Umoja Caribbean Union candidate forum Sunday, but five guys who want those seats in the 32nd Legislature did.
Shalima Edwards, president of the union, said the senators had all been notified of the forum on Sept. 23 and Nereida Rivera O'Reilly was the only one who replied that she would attend. But she did not show.
The aspirants who did show were Terrence D. Joseph, Robert B. Moorhead, Norman Jn Baptiste, Eugene LaCorbinere and Steven Payne.
Payne and Joseph emphasized that senior citizens would need help because the cost of living on the islands is high and going up. Joseph said he was running because he wanted a "brighter" future in the Virgin Islands for his two boys. Payne, who is a write-in, at-large candidate, said many seniors were in danger of losing their homes because of taxation issues and he wanted to address that in the legislature.
LaCorbinere is also a write in candidate. He said his main issue is election reform. He said, "If this election is not fair and transparent, we are going to have a big problem."
Jn Baptiste said his emphasis would be "to find solutions and take action." He said the present legislature has failed to set priorities and exercise its legislative responsibilities.
Moorhead noted he was the only Republican in the race. He said, "Economic development needs to start with us." He said businesses and startups need to be encouraged.
In the hallway of the Educational Complex High School auditorium, where the forum was held, the Board of Elections had set up voting machines to demonstrate how to use them.
Terrell Alexandre, administrative assistant at the board of elections, helped voters through the process. Noella Valmont, who went through the process, said, "It was pretty easy, the average person can handle it."
Members of the board of elections ran the machines through tests on Friday and Alexandre said, "It went well." He added that 127 St. Croix residents cast ballots on Saturday, the first day for early voting. Residents can cast their ballots at the Board of Elections Office in the Sunny Isle Annex, 9 a.m. to 6 p.m. until the election.
The Umoja Caribbean Union was established in January. On its Facebook page it says its purpose is "to unify and empower the people of the Virgin Islands and the Caribbean (home and abroad) through Afrocentric educational, economical and agricultural means by creating a system of human equality with the governing principles of 1. 'Know yourself for your greatest harmonious potential.' 2. Love. 3. Balance. 4. Harmony 5. Order 6. Truth. 7. Righteousness 8. Justice 9. Reciprocity and 10. Freedom."