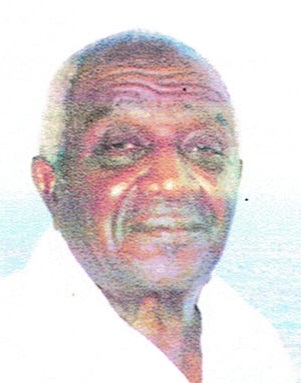 Norris Noberries Simon, also known as "Si," was born Nov. 21, 1924, in Antigua, West Indies and died Oct. 11, 2016, on St. Croix.
He was preceded in death by his sister, Ines Swift; grandson, Robert Joseph; sons-in-law: Henry "Boila" Flemming and Winston Primus; brothers-in-law: George Henry and Hezekiah Joseph; and nephew, Alton Jarvis.
He is survived by his wife, Pamella Murraine-Simon; sons: Ephraim, Charles, Alliston and Paul Simon; daughters: Georgina Primus, Hyacinth "Lucinda" Flemming, Leneth Simon, Jasmine Tunji, Bernita Simon, Julianne "Eyvette" Veira and Molvie Simon; and grandchildren: Kenroy, Beverley, Joeley, Rodney and Xavier Simon, Olivet Williams Joseph, Cicely Joseph, Dickson Joseph, Bryon Daniel, Vernon and Keisha Stay, Michael and Kimmesha Simon, Shawnette Robertson, Winston and Symore Primus, Myranda Fredrick Simon, Vernon, Wendy, Symone, Charles Simon Jr. and Alisa Simon-George, Adelle, Alison, Abisha, Alicia, Alliston Jr., Abigale, Aliroy Simon and Andrea Simon-Topping, Randy and Jelyn Simon, Omari, Orson and Orencia Flemming, Kendra Biodan, Hatshepsut Houzell, Biko and Blaine Claxton, Ivie Tunji, Deidra Veira-Bethel, DaNeka and Darrielle Veira, Euroy Morris.
He is also survived by 58 great-grandchildren too numerous to mention; great-great grandchildren: Niquani and Dequan Powell; sons-in-law: Clayton Tunji and Samuel Veira; daughters-in-law: Ernestine, Geraldine and Irene Simon; brothers-in-law: Carlton "Tire Master" Lewis (Antigua), Gerald and Ivan Henry; sisters-in-law: Sheila Murraine (Antigua), Veronica Henry (N.Y.), Veron Henry and Falcona Connor (Canada); nieces: Adrianna Jeffery, Natasha, Samantha and Kimora Otto, Patsy James, Lucinda Mckenzie, Ursillia Jacobs, Marilyn Tonge and Hyacinth Williams; nephews: Claxton Tonge, Nigel Fergus, Zavear Otto, Ottley Howell, Austin Jacobs and Bernard Lewis; and cousins: Iotha, Larkland, Bernard and Enoch Thomas, Glendora Lewis, Rhoma Nicolas, Veneta Harrigan, Avis Ferrance, Angela Heskey, Doreen Sergeant, Kethura Jones, Shirley Smith, Rasheeda King and Joyanne Norman.
Other survivors include godchildren: Monica Dowdye Richards, Terrance Joseph and Earl Morris; friends: Desmond Baltimore, Jacob Byron, the Members of the Muckle Memorial Baptist Church, Ernestine Williams, Israel "Old Dog" Veira, Camella Nesbitt and family, Beulah James and family, Carolie Coulbourne and family, Laurel Johnson and family, Lolin Flemming and family, Leroy Hurst and family, Dulce E. Stapleton and family, the Morrises, the Maynards, the Boyces, Eunice Gumbs, Mr. and Mrs. Reginald Henry, Otis Stevens, Fredricks, Yvonne and Arthur Joseph, Izalynn Adams, Delacy and Hezlyn Henry, Melsada Jerimiah and the Georges; as well as other relatives and friends too numerous to mention.
A viewing will be held from 3-5 p.m. on Thursday, Oct. 27, at Divine Funeral Services Chapel.
A second viewing will take place at 9 a.m. followed by a funeral service at 10 a.m. on Friday, Oct. 28, at the Beeston Hill Wesleyan Holiness Church. Interment will be at the Kingshill Cemetery.