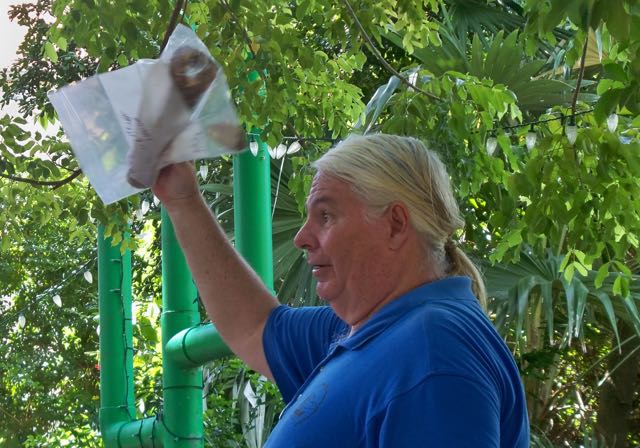 Roadwork on Company Street in Christiansted might be an inconvenience for motorists and business owners but for archaeologist David Hayes the excavation of the road is like digging for buried treasure.
In August, WAPA began excavation of Company Street for a new potable water line system from Sunday Market Square eastward to Church Street, and Hayes is monitoring the site. Because the work is federally funded, the project is required under the National Historic Preservation Act of 1966 to have a monitor.
Hayes said Thursday that artifacts from the early 18th century to the 20th century have been found about three feet under pavement and even cobblestone.
He told 40 people gathered at the Luncheria courtyard of the Apothecary building complex that it appears there was a bit of smoking and drinking going on back then.
Preservationists have found 600 pipe stems on the street where the 1832 Apothecary building complex is. Hayes said he was particularly pleased with the discovery of an intact pipe bowl with a logo on it from the 19th century.
A neck of a wine bottle from the early 1700s and a square bottom of a gin bottle, also from the 1700s, were dug up. Broken stems and pieces of six wine glasses that weren't pulverized under the road were revealed. There were door latches and Moravian pottery shards found.
In a two-block section near Bentick's Liquor and Grocery, store they have uncovered what Hayes believes was a refuse hole from a house that burned. He said there was domestic trash, like chamber pots and storage containers, just thrown on the road. And there were pieces of 20th century imitation Chinese and Japanese ceramics unearthed.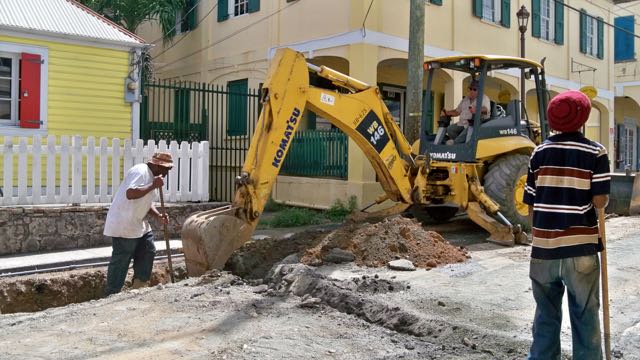 He recollected when he was growing up in Christiansted in the 1950s there were people still using chamber pots. He recalled the night soil being collected and carted off for fertilizer.
There are also structures like culverts underground that Hayes said should be in the Christiansted and national historic registries.
Hayes said the artifacts will be boxed up in plastic boxes and given to the Department of Planning and Natural Resources to archive them. "We don't want to lose what we found here," Hayes said.
Hayes is a founding member of the St. Croix Archaeological Society, dedicated to getting residents and visitors excited about the pre-Columbian history of the island.
Hayes is in the planning stages of hosting the annual conference for the International Association for Caribbean Archeology on St. Croix next year.
The St. Croix Archeology Museum is located off the Luncheria Courtyard in Christiansted at the Apothecary Complex. Information on membership, events, tours and activities can be found at the St. Croix Archaeological Society Facebook page and web page at http://stcroixarchaeology.org/.