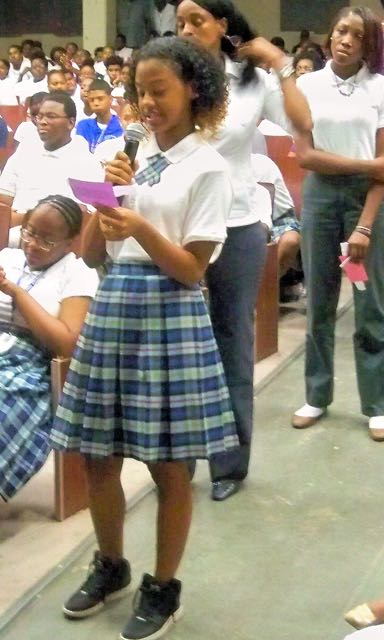 Ten senatorial candidates for the 32nd Legislature participated in a forum at the St. Croix Educational Complex High School on Thursday to address the students and the students' concerns.
After giving one-minute introductions of themselves, the candidates answered questions from the students, from ninth through 12th grades who filled the 700-seat auditorium almost to capacity.
Some questions focused on areas of specific concern to students. One student asked what the senators planned to do about mold in the schools. Another asked why there were no funds for St. Croix sports team to travel.
There was also a question about whether the problem over insurance for high school athletes had been resolved so seasons did not have to be canceled.
The students also showed awareness of islandwide problems. A student asked, "What do you plan to do as senator to fix the roads on St. Croix, which are in such bad shape that they are causing damage to our cars?"
Another student asked a candidate if he had any ideas on ways to cut violent crime on St. Croix.
The forum was organized by the school's Social Studies Department and has held regularly in election years since the early 1990s.
This year was the first year for Augustina Gonzaque as department chairwoman organizing the forum. She admits to some tense moments leading up to it.
The forum was scheduled to begin at 9:30 a.m. but, at that time, the mid-island area was suffering a power outage and the school was pretty dark. Fortunately at about 9:45 a.m. power was restored.
Gonzaque said that the forum lets candidates hear what some of the concerns are in the community as well as being an educational experience for the students.
The students were pretty vocal in their reception of some of the candidates. Receiving the most cheers was Alicia "Chucky" Hansen. Also receiving a warm reception was Sen. Kurt Vialet, a former principal of the school.
Other candidates attending the forum were current Sens. Nereida "Nellie" Rivera-O'Reilly, Novelle Francis Jr. and Neville James, as well as Robert B. Moorhead, Norman Jn Baptiste, Eugene LaCorbinere and Terrence D. Joseph.