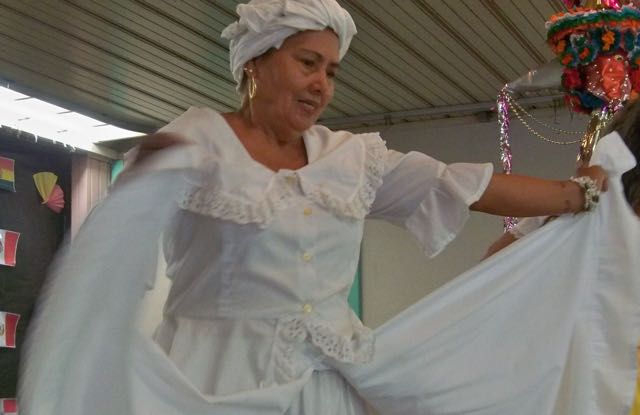 Eulalie R. Rivera Elementary School students were immersed in Latino culture Thursday afternoon while celebrating National Hispanic Heritage Month with recitations, performances, songs and dance.
Mary McIntosh, mistress of ceremony for the assembly culminating the observance of Hispanic Heritage Month, which is celebrated in the United States from Sept. 15 to Oct. 15 each year, had the students counting one to 10 forwards and backwards in Spanish.
McIntosh shared facts about the Independence Day celebrations of Latin American countries and spoke of how many Spanish speakers there were in the U.S.
But it was the cultural performances that best attracted students' attention. After a presentation by adults – Mirza Saldana-Lampe and Diane Fragosa – on Bomba, the history and the dance, it was the students who took over.
The kindergarten class sang the "Mariposita" song and the first-graders did a Chilean Acrostic, shouting out meanings for each letter of the word Chile.
But the action really got moving when the second-graders did the "La Macarena" dance. The third-graders split their time giving facts about Bolivia and performing a "Chacarera" Dance and "Bamba" dance.
Fourth-graders presented the poem "My Family is Everywhere" and the and fifth-graders presented "The Coast of Peru."
The sixth-graders brought it back to bodies moving to the sound of music with the dance number "Dando Vuelta."
The intermediate students brought the student performances to finality with a "Limbo."
The assembly opened with all the students giving the Pledge of Allegiance and singing the V.I. March.
Salvador Fragosa sang "La Borinnquena," the Puerto Rican National Anthem.