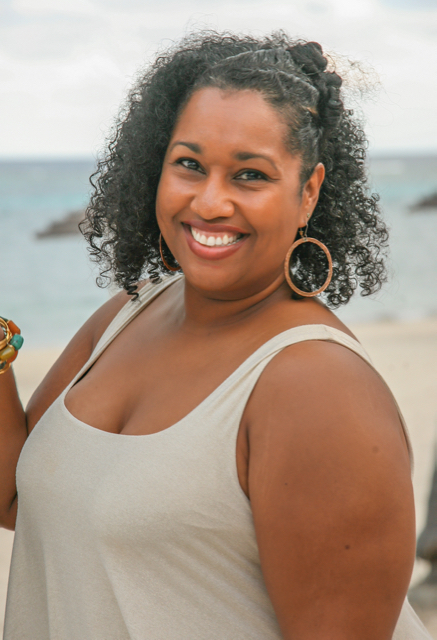 Looking to make some changes in life? Look no further than life coaching with Stennett Dariah, a transformational life coach, speaker and consultant. Her aim is to help people gain confidence and self esteem, make career changes, manage their time and more.
Through Dariah's Virgin Islands Coaching and Consulting business she focuses on helping individuals and organizations better manage themselves and maximize their potential.
Dariah said she had her own life coach, Nikki Assalone, and saw the benefits of working with a coach.
"I grew spiritually and there came a point in life when I said I can do this," Dariah said. "I love coaching and consulting and it's become a passion of mine."
As a child, Dariah said, she remembers watching Tony Robbins personal development infomercials on television and thinking she would like to help people with personal growth.
Dariah is outgoing, energetic and optimistic, with a philosophy which is to
focus on big impact opportunities with a forward thinking and pragmatic perspective. Dariah said she thrives on program and project management opportunities as well as interpersonal development facets.
Coaches are not therapists, Dariah said. They are trained to work with culturally diverse individuals by listening, observing, assessing skills, and setting action plans.
Life coaches work with their clients to create solutions by identifying challenges that are blocking success and reframing those roadblocks by teaching new skills and guiding clients towards greater independence. Each client wants something different, she said, and coaching is geared specifically for the individual. She said she co-creates the plan with them.
People will think more clearly and come up with solutions that eluded them before, she said. Dariah said in coaching, the client learns to come up with answers, finding the courage to achieving life and career dreams they never thought they could have.
Dariah said she helps people set clear goals, get focused and take actions that will help them get results with greater ease and lead them to a more satisfying life. They achieve goals, build confidence, clarity, strengths and skills that will serve them throughout their life, to achieve a well-balanced life.
Dariah said she offers a free, 20-minute consultation to see if her coaching is a good fit. She wants to hear what clients wants to accomplish and what their goals are. She has held two motivational workshops with local facilitators and presenters she networks with and has plans for more in the future.
Dariah was born and raised on St. Croix. She is a 1991 graduate of St. Croix Central High School and has a bachelor's degree in business administration and human resource management from City University in Seattle, Washington. She is working on her master's degree in organizational development at the University of Denver. In 2015 she became a certified life coach through the Coach Training Alliance. Dariah is also known locally for her specialty cheesecakes made to order.
Dariah said she gained experience working with Merrill Lynch, St. Croix Insurance and Jacobs Engineering Groups. The bulk of her expertise can be attributed to her economic development and community revitalization work with the St. Croix Foundation for Community Development as a community development program officer and property manager as well as the Virgin Islands Next Generation Network as a lead program manager, she said. In these capacities she managed more than $7 million in federal grants, redesigned Digital Literacy Programs and revitalized more than $700,000 worth of local properties in historic St. Croix districts in the St. Croix Foundation Scrape, Paint Rejuvenate program. While at the foundation she also instituted and was responsible for the first Virgin Islands incubator bringing businesses into its offices in Christiansted.
"I want to help people to expand their focus, to grow and flourish," Dariah said. "And to be happy, positive and think differently."
More information on Dariah's services is available by calling 305-712-2400 or online at www.usvicoach.com.