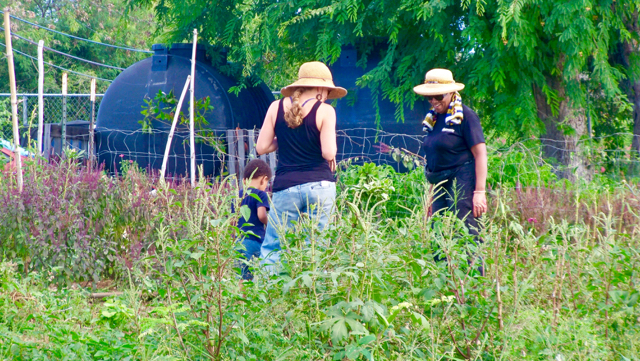 Frederiksted Community Garden is a great spot, right in town, for people to work on a plot of land and raise healthy, fresh food to eat. The land located off of Fisher Street and before Marley Community Housing is cleared, contoured and cut into plots ready for farmers to dig in.
A few plots are already planted with colorful zinnias and red-hibiscus basil mixed in with bright green pods of okra. Hot pepper plants are mixed in with tender chives and pale green sage.
And there's plenty of room for more people to get involved and grow fresh food.
On a recent afternoon when the Source visited the garden, Frederiksted resident Qiyamah Rahman was busy hoeing weeds and tilling soil.
Frandelle Gerard, owner of the plot that is slightly less than two acres, said she wanted it to be put to good use and to enhance the community and get community involvement. Gerard said she had the concept for a community garden for years.
"I decided a garden would help to improve the neighborhood," Gerard said. "And it's a safe place for people to work in their own plot. People from the community have shown a lot of interest and have been watching the progress."
She said individuals involved with Crucian Heritage and Nature Tourism CHANT have reached out to residents in housing. The fees for the garden plots are waived for Marley residents. She added people are starting to see it makes sense to eat healthy locally grown food.
About five years ago, CHANT partnered with Ridge to Reef Farm to develop a plan for the garden, Gerard said. The Department of Agriculture cleared the land, which was covered in dense bush.
Gerard said they planted a bumper crop of tomatoes this past growing season and they sold the surplus with proceeds going toward irrigation.
Gerard added they are working with Stuart Weiss from the University of the Virgin Islands Cooperative Extension Service.
The land that has a slight slope has been contoured, swaled and planted with moringa trees for a buffer to avoid run-off when it rains. An earthen berm is also planted with moringa and pigeon peas that add a lot of organic matter to the soil. Fruit trees and decorative plants also have been planted.
A drip irrigation system is being installed that they plan on having completed by the end of the month. The DOA gave two large water tanks that will be filled using fees from the plot rentals.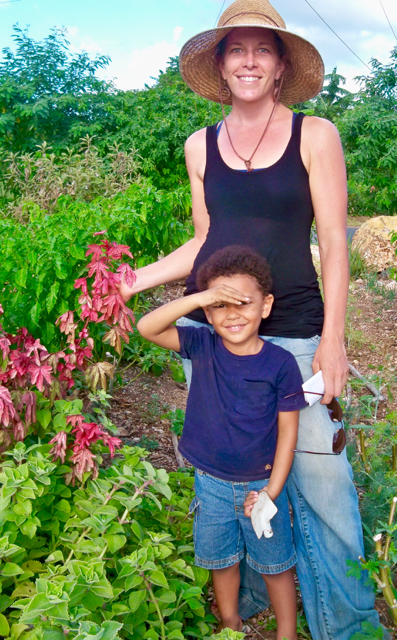 Jessica Ewer, sixth generation farmer and garden manager, said the garden is totally organic, there is composting and use of chemical fertilizer or pest control is prohibited.
Ewer said eventually they want to open a west end vegetable market that could include all local farmers.
Ewer said they need more volunteers and more participants to make the project work. She added even an hour a week can make a huge difference, and volunteers can go home with food.
Thursday, Saturday and Sunday are designated work days, but people can work when they have time. Planting begins in December.
Qiyamah Rahman, who lives in the neighborhood, said she is happy to have a garden near by to work in whenever she has time. She added she gardens because she wants to eat fresh organic vegetables and likes knowing where they came from.
During the last full moon, September 16, a baobab and six calabash trees were dedicated to Veronica Gordon in a drumming and commemoration ceremony. Gordon, who died in March, started the trees from seeds. She was a tradition bearer and CHANT member.
Plots are available for a fee for individuals or groups in the community that want to grow food. There are about 50 plots that measure 10 feet by 20 feet or 20 feet by 40 feet.
Those who want to know more about the garden, make a donation or find out what is on the Garden wish list can send an email to info@chantvi.org or go to Frederiksted Community Garden Facebook page.