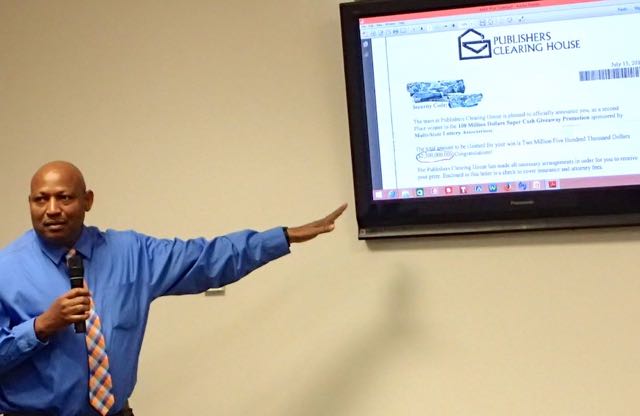 Ponzi and pyramid schemes, Publishers Clearing House, mystery shopper and home repair scams have all been perpetrated on Virgin Islanders, according to local and federal experts speaking to residents at a fraud watch forum Thursday, sponsored by the U.S. Security Exchange Commission and AARP.
"It's part of a national campaign to inform members and persons 50 and above about ways money – investments and retirement – can be affected by fraud," said Troy de Chabert-Schuster, AARP state director.
The half-day seminar at the V.I. Cardiac Care Center included presentations from representatives of the SEC, the V.I. Department of Licensing and Consumer Affairs and the Lieutenant Governor's Office Division of Banking and Insurance.
Lisa Roberts, a chief attorney advisor from the SEC Miami regional office, talked about the SEC's role to protect investors from fraudulent practices including registering legitimate investment products and advisors.
Roberts provided literature about the agency's website, Investor.gov, that provides tips for seniors to invest and plan for retirement. She explained the SEC database, EDGAR, which lists public companies and their activities.
Investors should first research investments and financial advisors before making a financial commitment, Roberts said. Scam artists lack documentation, will try to make a personal connection and will pressure buyers to make quick decisions. They can include members of the investor's church, school, branch of the military or other organizations.
Investor.gov also offers help for seniors planning ahead for the time when they become ill or lose the ability to manage their affairs. Roberts recommended organizing important documents, including bank, mortgage, insurance, Social Security and retirement information, in one place and compiling a list of emergency contacts. She advised against giving an investment broker control over financial matters.
Eric Bustillo, SEC regional director in Miami, said one of the federal agency's goals is to educate the public to know what questions to ask before making an investment. The forum provided an opportunity to learn about the SEC's role in licensing and registering investment products and advisors.
"One key point of our mission is to protect investors," he said. "The takeaway from the forum is how important it is to do research before you invest."
Licensing and Consumer Commissioner Devin Carrington talked about types of fraud and how scams work. He cautioned the audience to be aware of deals that seem too good to be true and to investigate people and websites. Con artists play on the victim's emotions, he said.
"When something sounds too good to be true, you verify. Say 'Let me get back to you,' and get a phone number and call back," he said. Often the number will be disconnected or another person answers.
Carrington was asked about fines and punishment for fraud. He said his department reports cases to the Federal Trade Commission, but not much else, because it is difficult to identify the perpetrators.
Ashton Bertrand, financial services chief from the Division of Banking and Insurance, said residents can verify the legitimacy of financial advisors practicing in the territory because they must be registered with his office.
He talked about recent scams in the Virgin Islands investigated by his office including a Publishers Clearing House scam uncovered last week. The poster and check awarding $5,000 a week for life looked authentic but certain information was not accurate.
Other scams include enticing customers to pay ahead for home repairs, to accept a check for payment of some kind and return some of the funds or to send money overseas to collect a larger prize. There are even schemes to defraud people with Zika and other medical problems, Bertrand said.
Carrington, Roberts and Bertrand said their agencies cannot combat fraud unless they are aware that it is going on the in the community. They stressed the importance of contacting their offices with suspected fraud cases.